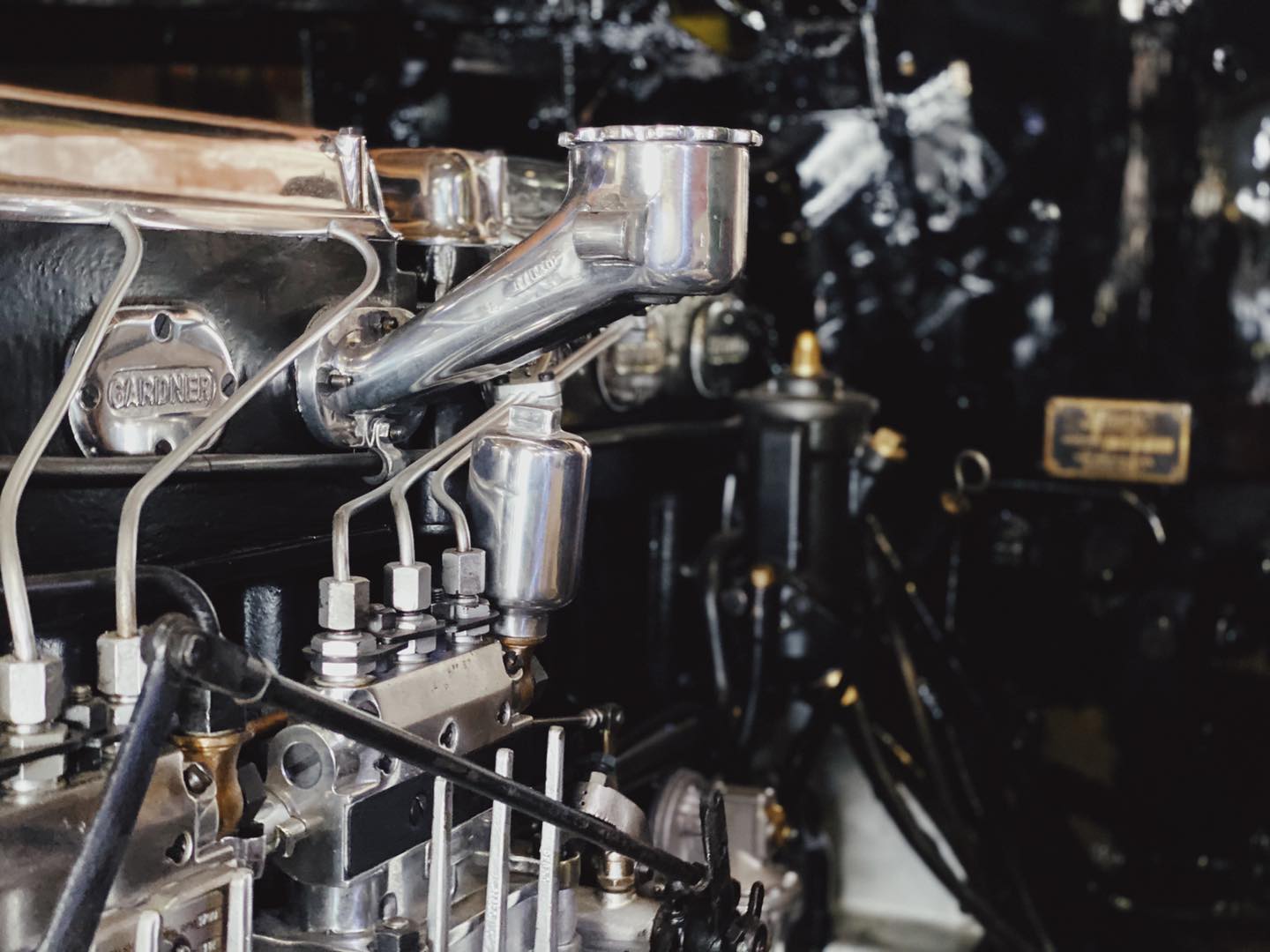 Engines - The Heart of Your Vehicle
20th February 2022
You might already know a lot about engines or from experience have learnt what looks and sounds right and what doesn't. If you don't know much about engines or aren't very mechanically minded the whole thing can become pretty overwhelming and if you are that person then I hope this blog post can give a few tips to allow you to at least have a go at working on your bus/coach.
I don't claim to be an expert on all engines but can certainly share my experiences with you and hope this article helps you in one way or another.
The most important part of your bus or coach is the engine. The engine is the heart of your vehicle. After all without it you wouldn't be able to drive your bus or coach to rallies, use it for private hire or listen to the engines sweet sounds. One of my favourite sounds is the whining gearbox on an AEC or a rasping exhaust and if I were ever to purchase another bus it would probably have to have one of these characteristics and sounds!
I can't stress enough how important it is to look after and maintain your vehicles engine. Like anything if you look after it, it should last longer and have fewer issues.
My first experience with engines was working on AEC's from a young age. I was lucky enough to grow up surrounded by AEC's which meant I could develop my bus and coach knowledge and skills working on them. My first encounter with engine trouble was when we would take the 1960 Halifax AEC Regent V AV590 out and it would always have fuel trouble on hills. The engine needed new fuel lines and the fuel tank cleaning and clearing out so it would stop dragging muck through and blocking the fuel filters. It was always a heart stopping moment when we felt the bus falter and splutter to a halt. Cracking open the bleed screw on the fuel pump to bleed out fuel enabled the bus to get going again. So this was the first thing I learnt, diesel engines need to have an airtight system to run properly. Later in life when I had my own collection of buses mainly AEC's I worked on their engines and over the years I have successfully worked on many different types of engines including, AEC's, Gardner's, Leyland's, Cummins and Bristol engines. All of them very different to work on but basically all the same in principle.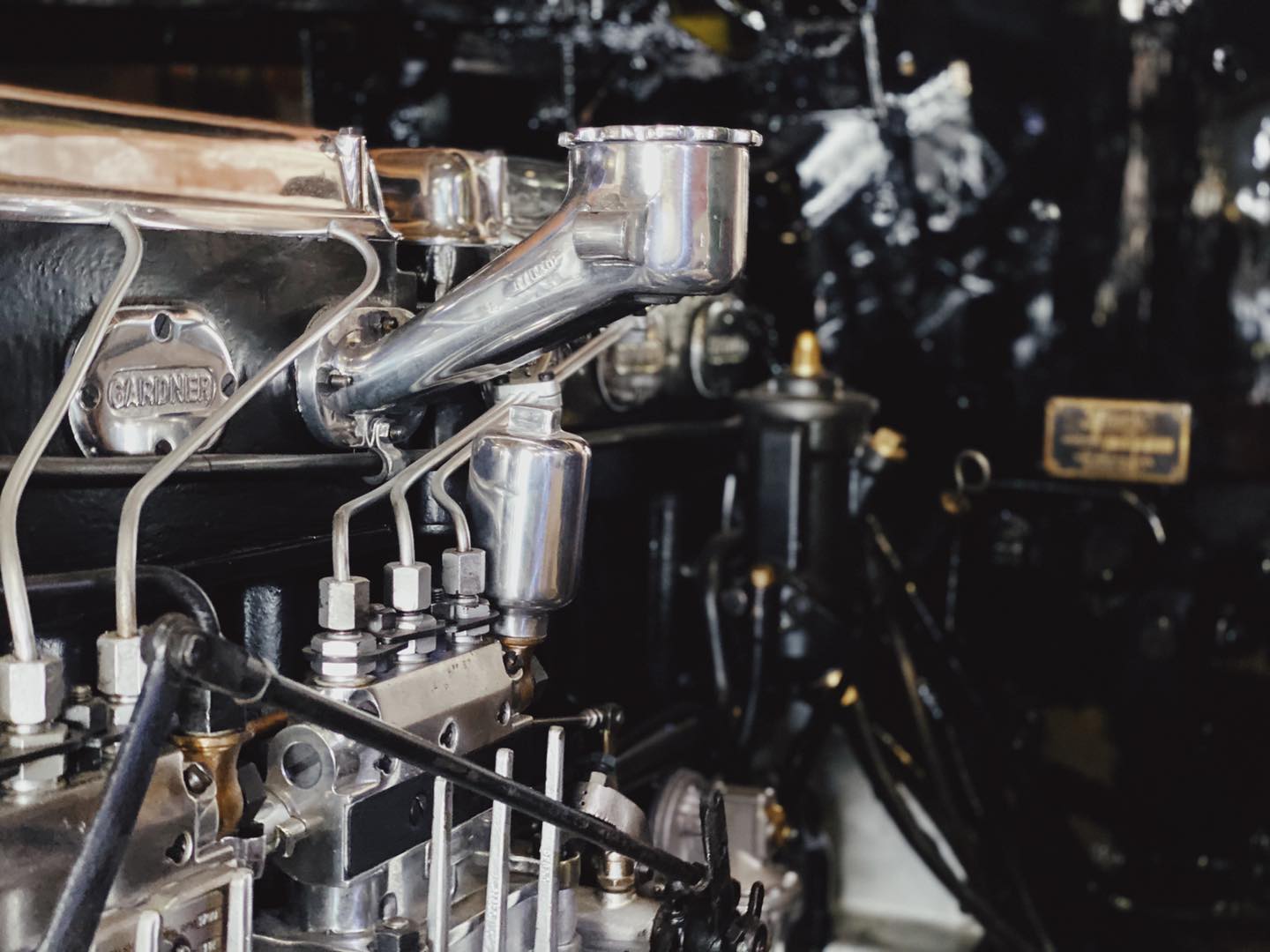 Engine Q&A
Q: So I have bought a bus/coach for restoration and need to check over the mechanicals, where do I start?
A: When you first purchase your bus or coach you will need to check the condition of all of the mechanicals. Have a dip of the engine oil and check the engine turns over. To do this get a flat bar or a tyre lever and position it where you can turn the engine flywheel, usually an opening where the gearbox mounts. This will give you an indication whether the engine is free before attempting to start it.
If you are satisfied the engine is turning free then the next step is to make sure that when you have the starter motor turn over the engine, that it's not going to start immediately and over rev due to a stuck open throttle or fuel rack. You don't want that to happen from first start up.
Make sure you have disconnected the fuel lines ready so it doesn't over rev and just turns the engine over. If the engine turns over this usually means it's free from any seizures. Now you have established this do some simple checks to see if you have a supply of fuel, check the oil level and condition, colour, consistency. So you feel happy about trying to start the engine or seeing if the starter motor will turn it over. With a good set of batteries connected have a go.
It's always the best option to get your vehicle running and mobile especially if you're in a shared building where you need extra space when working and that means moving your vehicle when you work on it.
Now carry out other further checks. Does the vehicle build air or vacumn up easily and does there appear to be any leaks? Next check if the brakes are working. Depending on how long the vehicle has been laid up and where it has been stored can ultimately decide the condition it is going to be in both mechanically and cosmetically.
Q: How do I know if the engine is faulty or sounds right?
A: There should be no knocking, rattling or excessive smoke. Get some advice from experts if you are unsure and go to bus and coach rallies and running days so you can actually listen to similar vehicles working.
Q: Are there any common problems I need to look out for?
A: The most common problems to look out for when buying a vehicle is whether it has been regularly maintained. For example has the engine had regular oil changes or is it very oily on the outside, are there any strange noises whilst it is running and excessive water pressure rising when cold or discolouration of the engine oil? This could point to head gasket failure.
Q: What about authenticity? How do I know what engine my bus/coach would have had in it from new?
A: Check your vehicles chassis number and cross reference it with experts or do some of your own research online or in books.
Q: How easy is it to change an engine?
A: This depends what vehicle you have, manpower and tools available. Half cab buses are easier to work with, rear engine and under floor engine will prove more awkward without having the correct tools. Operators have been changing engines in their vehicles for years. If the engines were unreliable they would fit reliable engines. Or if the engines were getting hard to source spares for then they would fit an equivalent motor. We have seen this with the AEC Routemaster.
The AV590 engines were getting so worn out and were being overhauled that many times, it was time to seek a replacement. That came in the shape of a Cummins, Scania or Iveco engine.
Q: What about overhauling the engine, is this a good option?
A: If you are going to get your engine overhauled be prepared to spend a four figure sum depending on the work you have carried out. If you have the knowledge you could do the work yourself, although sourcing parts may take a while depending on the engine. Gaskets are usually readily available and there are plenty of engineering firms that can make parts for you. Nothing is impossible.
Q: What is the best way to maintain my engine?
A: Regular tappet settings and change your engine oil regularly depending on your mileage. After all this is the life blood of your engine. If you want to perform simple maintenance then I would suggest initially having the fuel injectors overhauled and the fuel pump, fresh engine oil and filter and drop the sump pan strainer and wash it clean. Also set the tappet clearances. New fuel filters and coolant inhibiter if needed.
Q: Should I collect spares for my engine?
A: Yes but in moderation, if you are not careful you could end up with a load of spares that you will never use. It's sometimes a gamble to spend money on spares that you may or may not use. Work out what spares are useful i.e gasket sets, water castings, oil seals ect.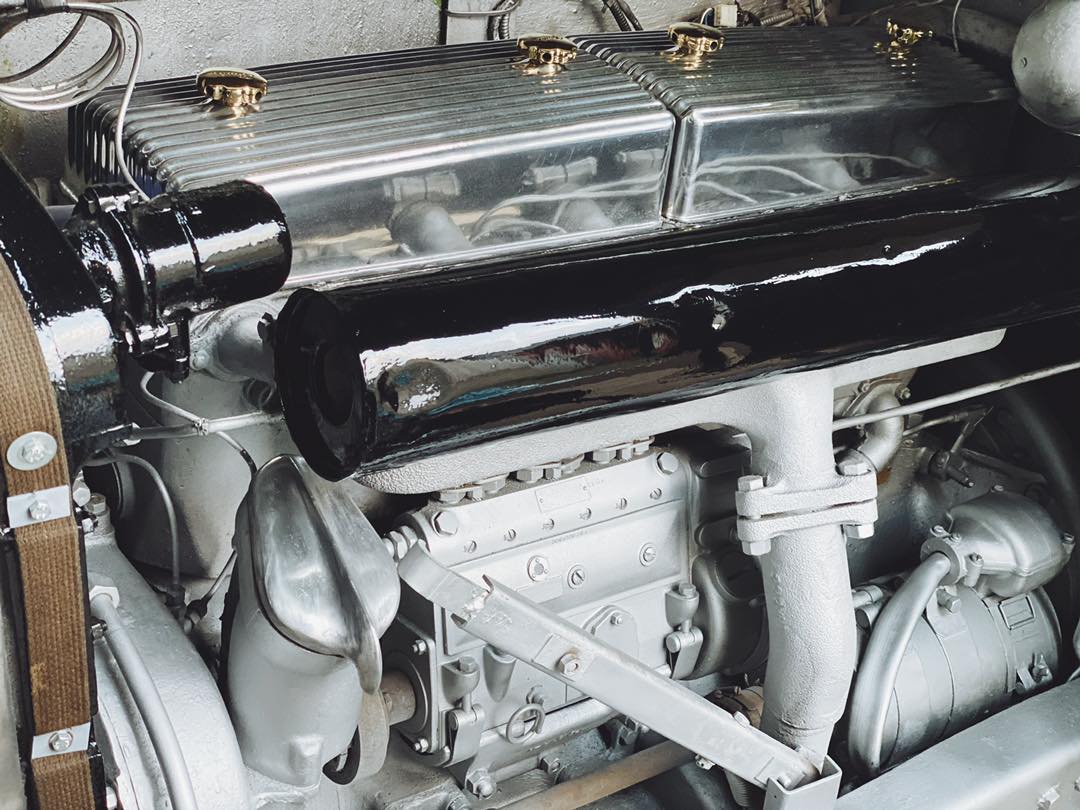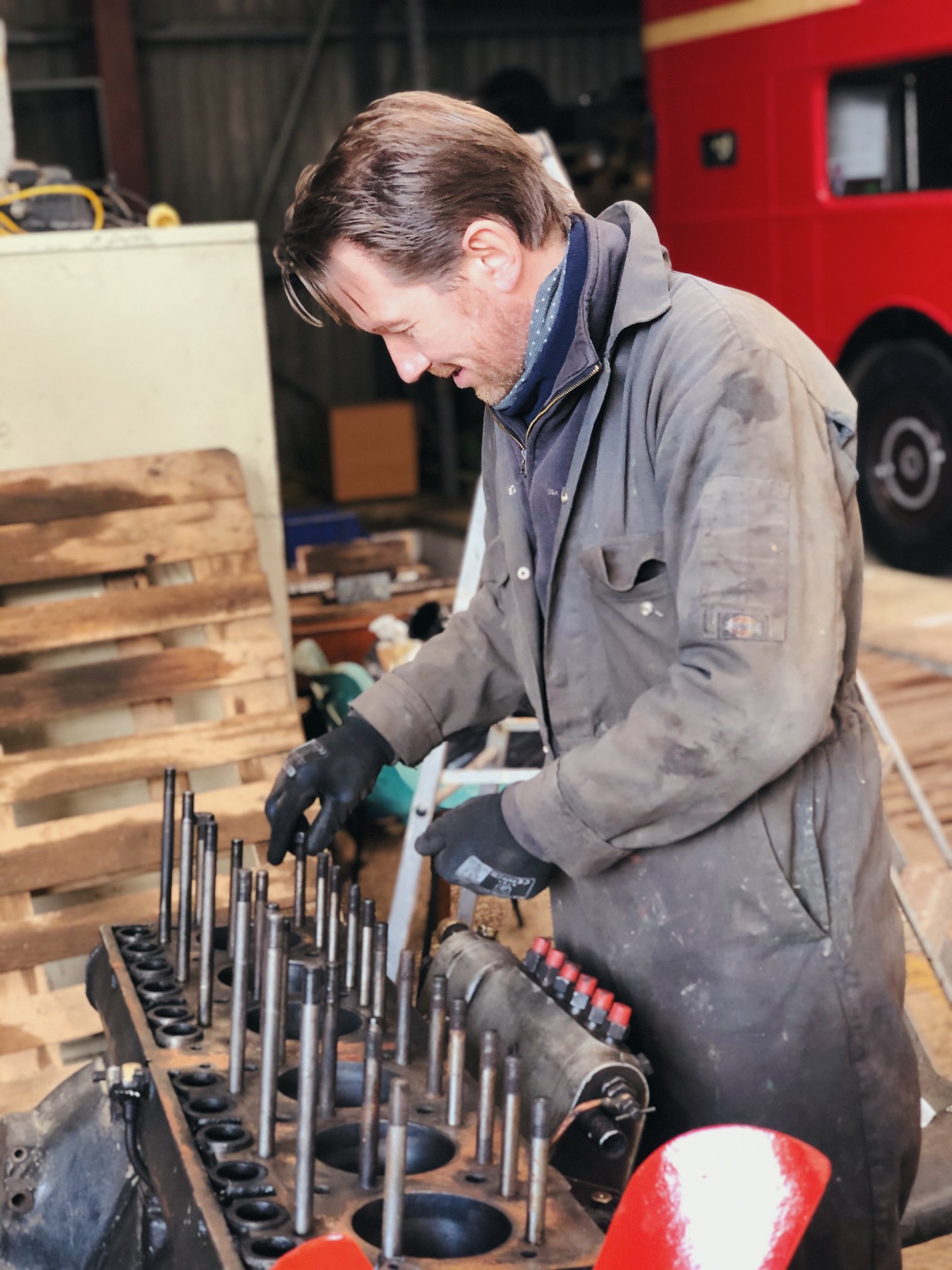 Q: Are there any books or manuals that will realistically help me?
A: If you can get your hands on a manual for your vehicle then I suggest doing so. They will come in handy even if it's for torque settings.
Q: What about hiring professionals to do all of this work for me?
A: Finding someone to remove your engine and take it away for overhaul isn't always that easy. Try and find someone who will remove your engine at your own storage if possible then get the engine sent away for overhaul. This way you can carry out further work on the vehicle that you might want to do.
Q: How to make my engine and engine bay areas look new and authentic?
A:If you have gone the whole hog and had your engine overhauled completely by a professional then you may have it returned all nicely painted. If you are wanting total authenticity then research what colour your engine would have been, the may be black or silver. You can also make it look perfect by having new water hoses and clips and polished aluminium castings. This will enhance the look of your engine and still maintain an authentic look.
To make the engine bay look as good as new, first remove any clamps or wiring holders away from the bulkhead. You may find there is a lot of grease and oil residue. Scrape the thick off then brush any degreaser, thinners or parts wash to remove the grease, leaving a dry surface to clean off old paint. You may need to sand the surface down to gain a smooth finish. Again research what colour the engine bay was before painting and you can dress it up with new clamps and wiring.
More experiences working on engines
I had an AEC Renown AV590 which had the clutch stuck where we had to remove the gearbox to free off the clutch.. This had subsequently bent the hydraulic clutch rods in the process trying to press the clutch pedal. This particular vehicle I did do a lot of work on the fuel system, replacing the fuel pump to get her running properly. All the time being bent like a banana under the bonnet as these half cab tin front buses prove awkward to work on.
The AEC Regent V I owned with the AV470 engine were always prone to head gasket failure in service because they had minimal amount of studs to tighten the heads down. I purchased a reconditioned engine for this bus which was an ex British rail engine that was used to teach apprentices about engines as it was a practise engine. I fitted this engine and it gave me a couple of thousand miles of trouble free motoring until I noticed the engine oil was going grey which was an indication of the water in the system mixing with the engine oil. So straight away I presumed it was the head gasket so I took it upon myself to change the head gasket which was relatively easy on an AEC as everything is exposed and to hand. So this involved removing the rocker covers, the rockers and push rods, injectors, injector pipes and leak off pipes. water joints and air intake manifold and cylinder head nuts. So by removing both cylinder heads to access the gaskets, I changed the gaskets, cleaned everything up, replaced everything, torqued down the cylinder head nuts to specification. Then ran the engine a few miles and retightened the cylinder head nuts whilst hot to make sure it was all bedded down and reset the rockers/tappits. Job done! I was pleased with the work and set off again with the bus. All happy with that until I discovered the engine oil went grey again. So this time I decided to look further into the problem and drop the sump pan and discovered beads of water running down the liner cylinders. This being a wet liner engine which means the liners are fitted in between the water system needing O rings to seal them. I discovered that these were perished and were letting water into the engine sump which was mixing with the engine oil turning it grey. So it wasn't the head gasket after all. This was a slightly bigger job to take on. This meant cylinder heads off again, dropping the piston connecting rods, pushing the pistons out. Then I had a tool made to pull each liner out of the engine block to get to the O rings. With some help from Martyn Callahan who supplied me new liners together we pulled each liner out but some were very tough and ended up breaking. We fitted new seals and liners to the correct tolerances, refitted everything back together. Working off the tolerances in the handbook. The engine is running today as sweet as a nut.
if you ever have any questions about your vehicles engine you can email us at hello@therevivist.com.
Related Posts