Passionate
Passionate about preserving classic transport and restoring vehicles to immaculate standards, keeping heritage alive.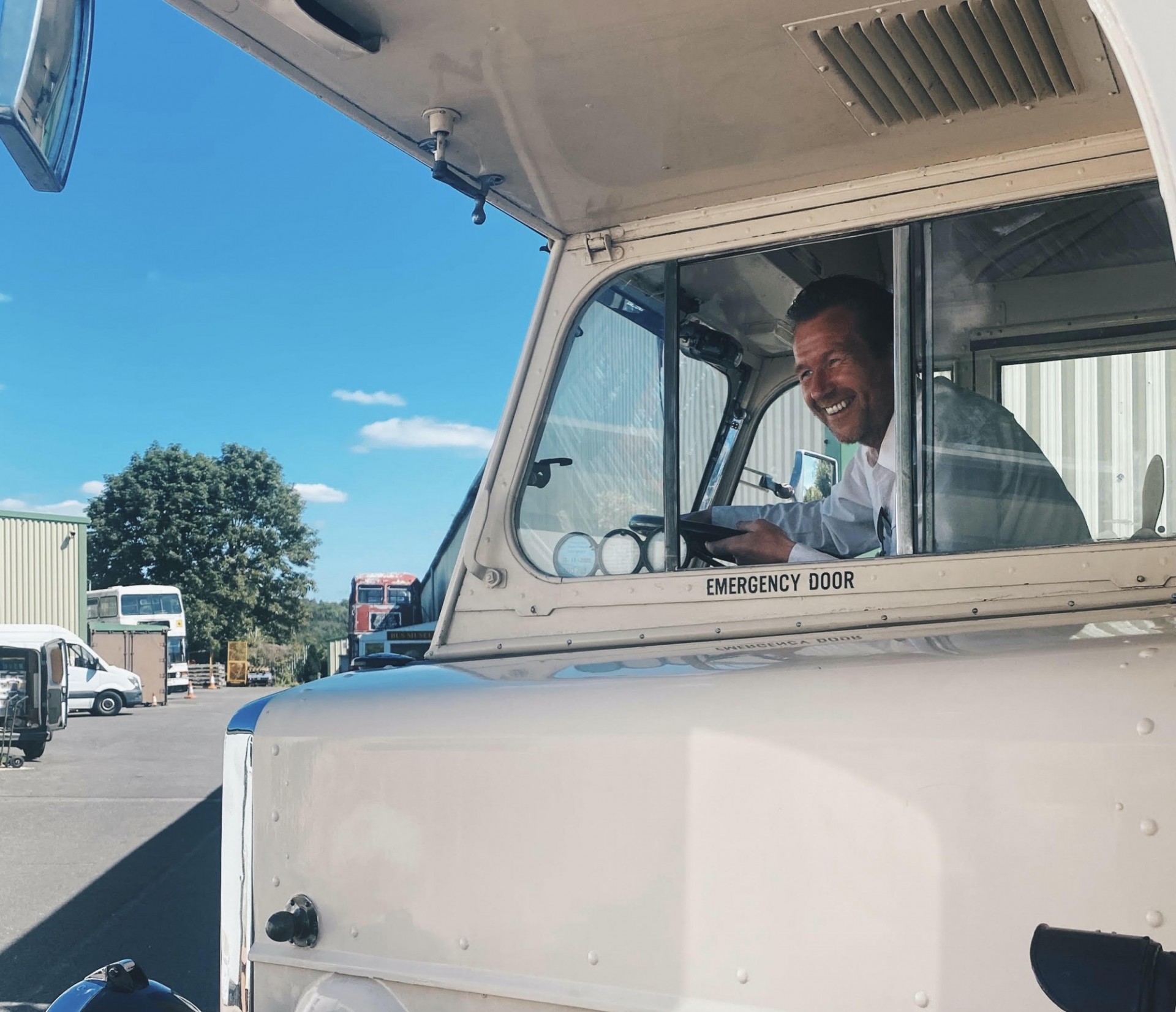 Experienced
With decades of experience and heritage restoring and preserving classic transport, we are knowledgable and experienced.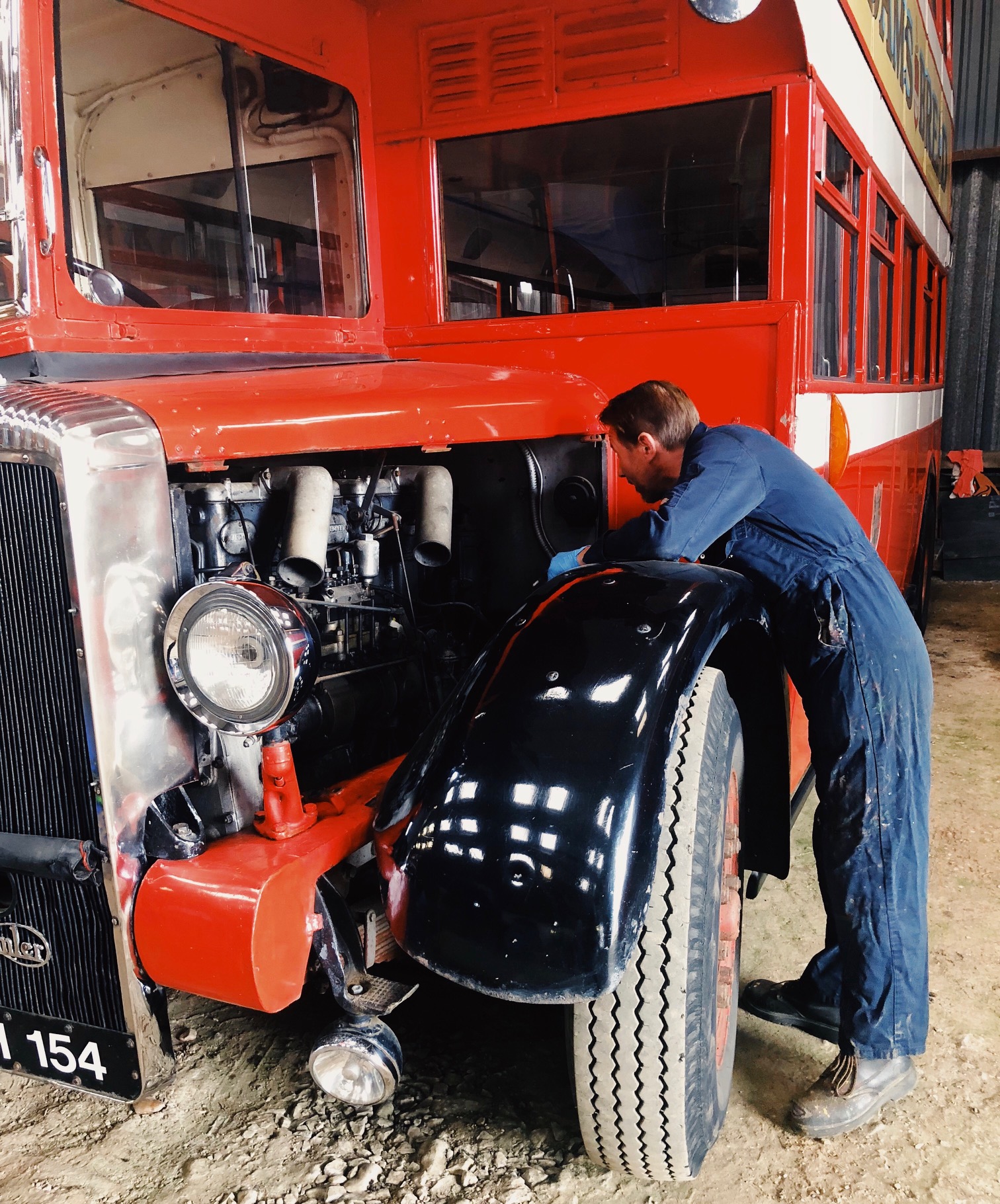 Artisans
Using traditional coach building and painting methods, we celebrate traditional skills mixed with new age technology.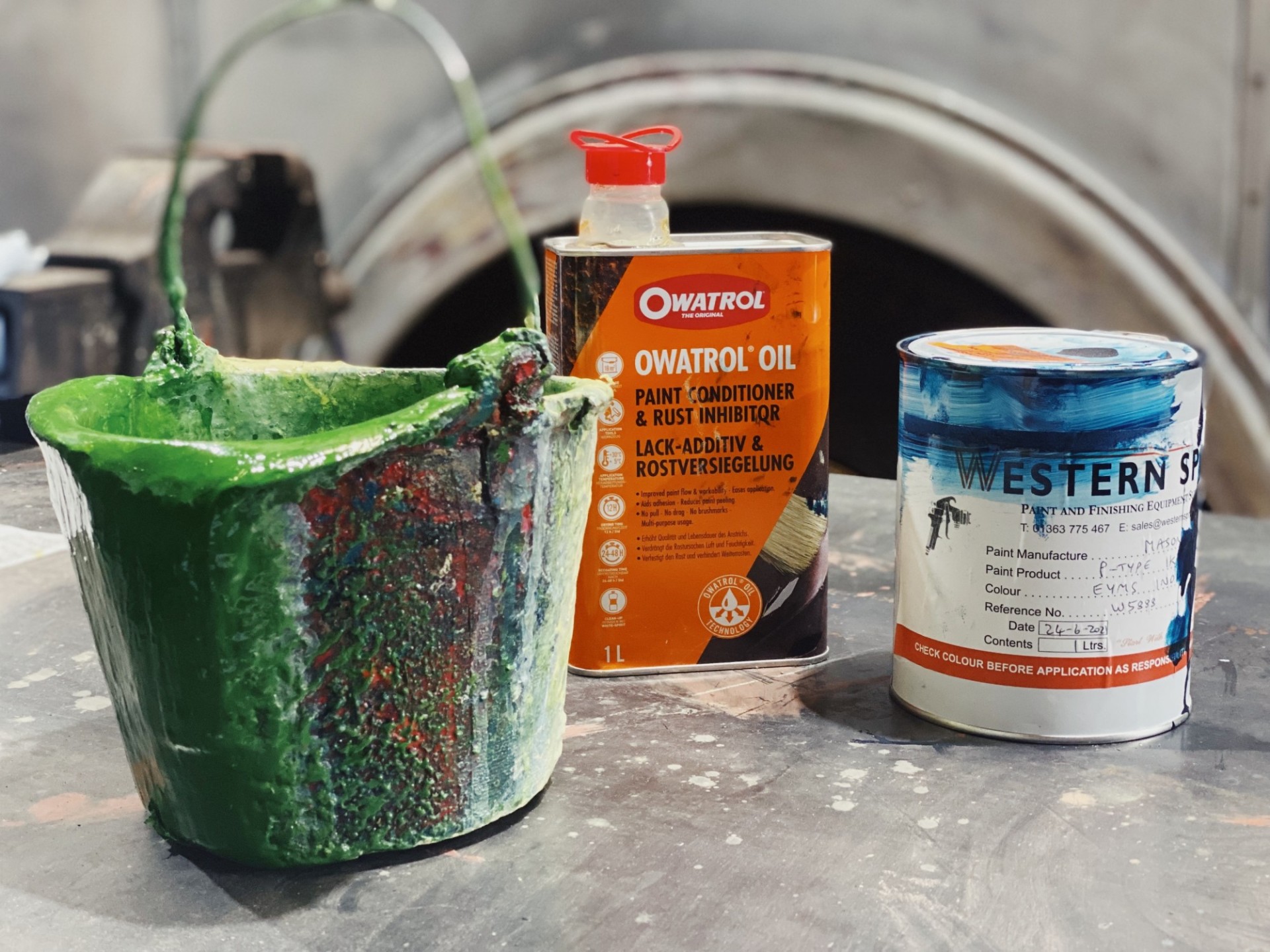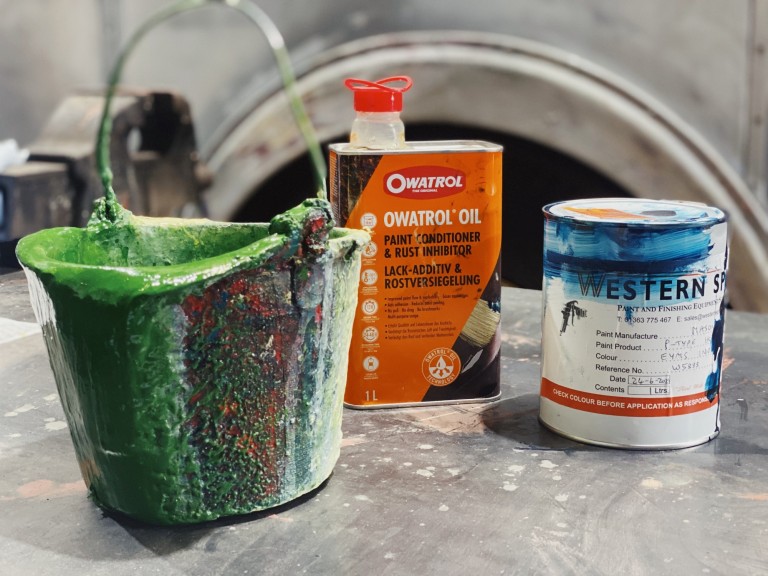 Dedicated
We live, work and breathe heritage transport, 365 days a year, restoring classics is both our business and our passion.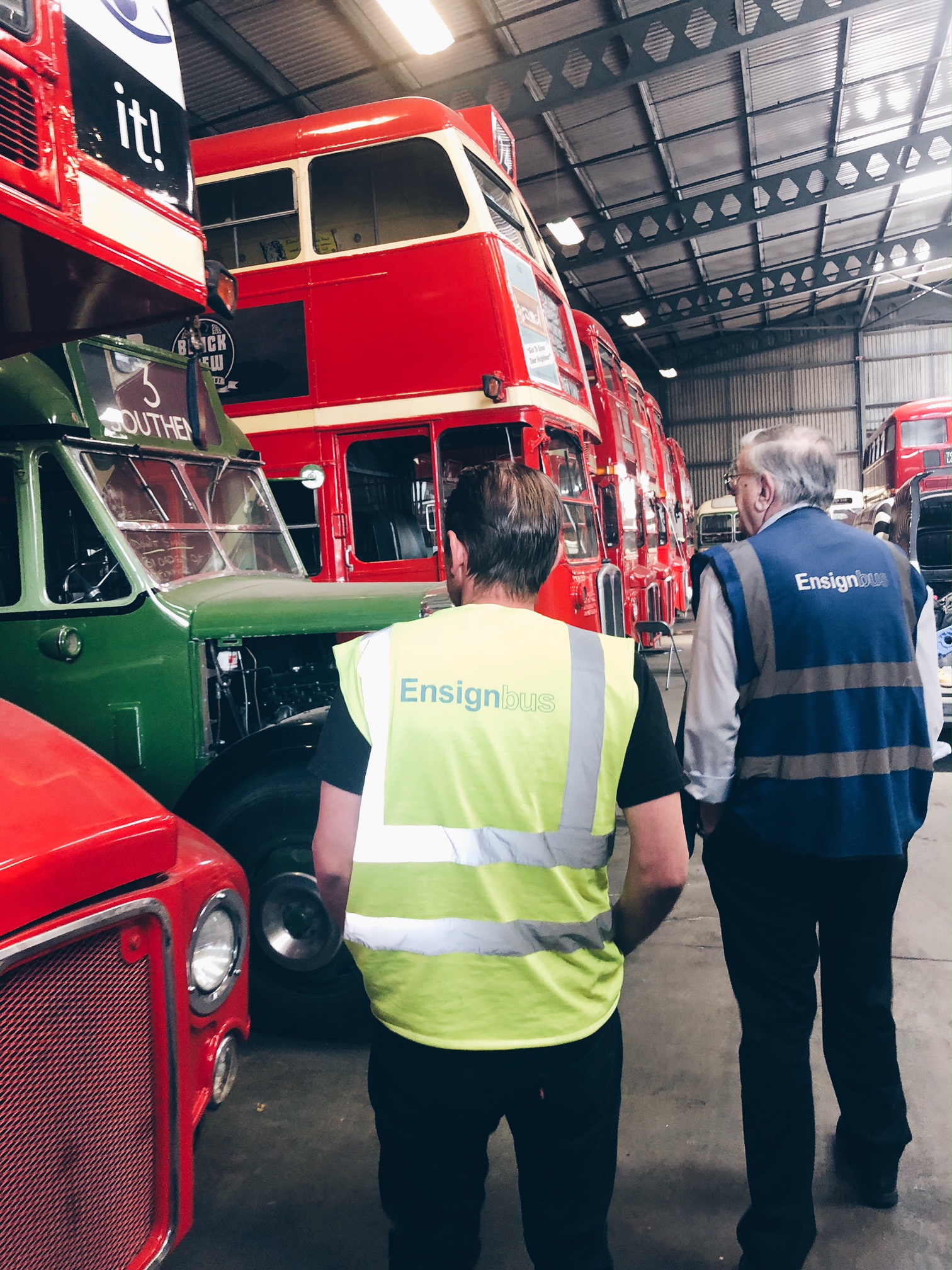 Well Connected
From building lasting friendships with our clients and sourcing the best suppliers, we have a little black book of gold.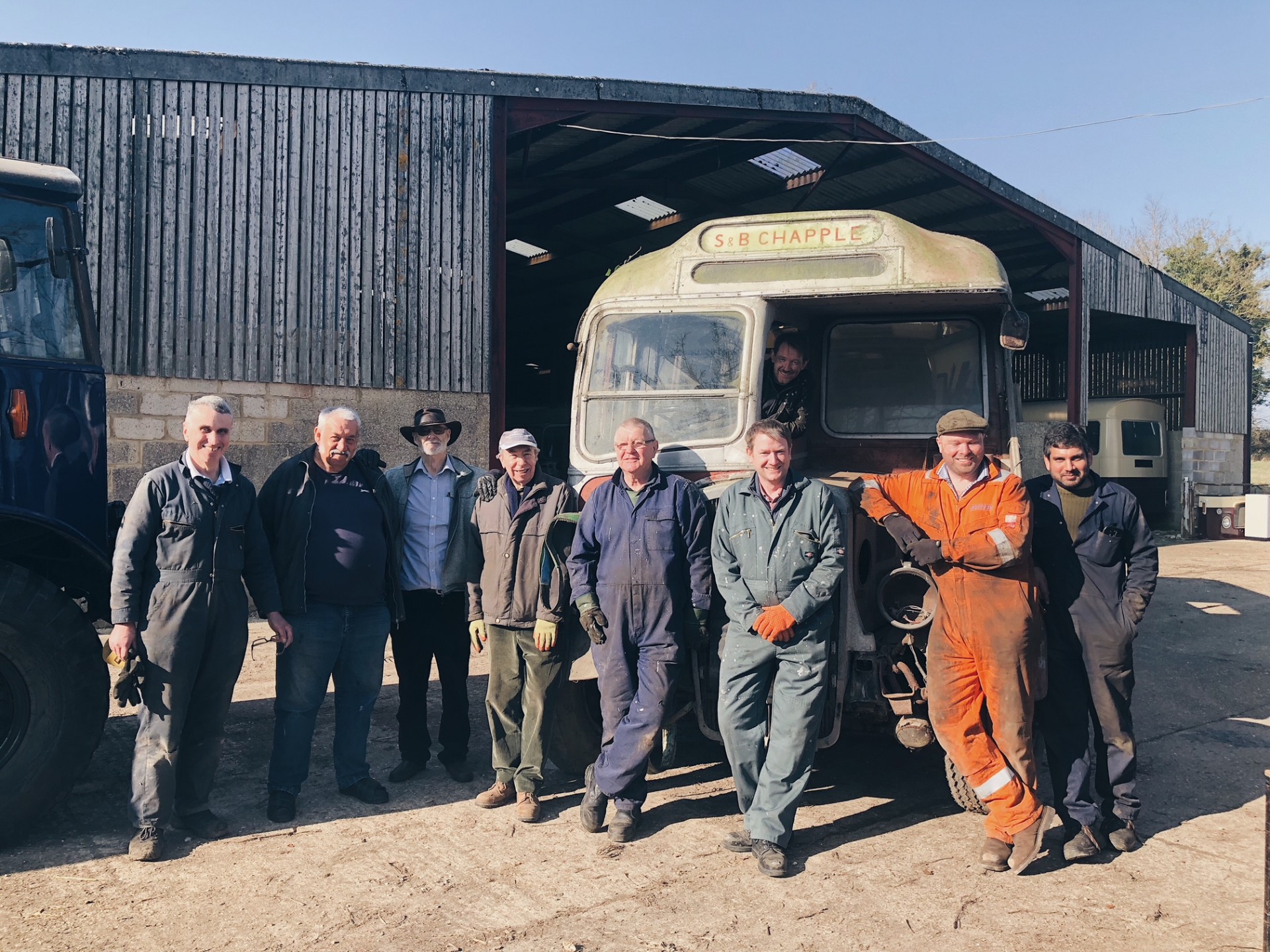 Ashley Blackman
We take the hard work, time and overwhelm of a restoration project out of your hands and into our experienced, skilled workshop. We recreate the nostalgia you dream about through restoration, transforming your vehicle into a showstopping classique.
Information
About The Revivist
1st January 2021
Founded by Ashley and Kirstin Blackman, The Revivist specialises in classic vehicle restoration and fine coach painting with a key focus on historic buses and coaches. The Revivist workshop is based on the outskirts of the historic city of York, North Yorkshire.
Ashley Blackman's excellent reputation and experience within the bus and coach preservation industry attracts top clientele who transport their favourite vehicles from all corners of the UK to the workshop to receive The Revivist's renowned restoration and coach painting treatment.
The Revivist specialises in both full and partial restoration projects and the traditional coach painting of classic buses and coaches, championing traditional craftsmanship. Although full scale restoration projects and coach painting are at the core of what we do, we will also take on smaller projects such as mechanical & servicing work, partial restorations such as interior or exterior bodywork and paintwork. We will provide you with a bespoke quotation estimate tailored to your vehicle needs.
With showstopper standards, heritage skills and traditional craftsmanship, attention to detail, extensive knowledge, valuable contacts, a passion for authenticity preserving heritage vehicles as they should be, a love of fresh chrome and dressed tyres, smooth running vehicles and not forgetting that shiny coach paint finish, you wouldn't want your classic driving on anything other than a red carpet after having The Revivist restoration treatment. OK well maybe a red carpet isn't practical but you get the picture…we always strive to deliver concours d'elegance.
We also offer consulting in the form of project managing large scale restorations for museums and private collectors and if required marketing, brand building and social media services to help museums and collections in the heritage bus and coach industry stand out, attract donations and thrive.
Ashley and Kirstin are a dynamic duo here to serve you when it comes to restoration, maintenance, connecting you with trusted people in the industry, helping you purchase and sell your vehicles to safe preservation homes and sharing history and stories with you over a drink at rallies and events. Why, because we care and are passionate about bus and coach preservation for us this is not only our business, it is our lifestyle. We are your trusted go to heritage bus and coach professionals and we can't wait to meet you 😎
Email us: hello@therevivist.com we are looking forward to connecting with you and helping you achieve your restoration goals.
"No restoration phases us and no vehicle is too far gone where preserving heritage is concerned"

Ashley Blackman
The Revivist is experienced and knowledgable about pre 1980's bus, coach and trolleybus marques, models, coach builders and historic operators including but not limited to 👇
Marques: AEC - Regent, Regal, Renown, Bridgemaster and Reliance. Bristol - L types, K types, Lodekka, VRT, RE and MW. Leyland - Titan, Tiger, TigerCub aka PD series, PS series, TD series and TS series. Daimler - CV, CD, CG and Fleetline. Bedford - OWB and OB. Guy - Arab. Albion. Dennis. Maudsley
Coachworks: Park Royal, Roe, Weymann, ECW, Bristol, Duple, Plaxton, Northern Counties, Mann Egerton, MCW, Massey, Burlingham, NCB, East Lancs, Leyland, Strachan, Chalmers, Harrington.
Operators: City of Oxford Motor Services, Devon General Omnibus and Touring Company, London Transport, East Kent Road Car, East Yorkshire Motor Services, Leeds City Transport, Yorkshire Traction, Bristol Omnibus, Bristol Tramways, Brighton, Hove & District, Crosville Motor Services, Brighton Corporation, Thames Valley Traction Company, United Automobile, Orange Brothers, Black & White Motorways, Westbury Luxury Coaches, Royal Blue, Bradford City Transport, Halifax Corporation, Bournemouth Corporation, Gash & Sons, Lincolnshire Road Car, West Yorkshire Road Car, Maidstone & District, National Bus Company…and many more!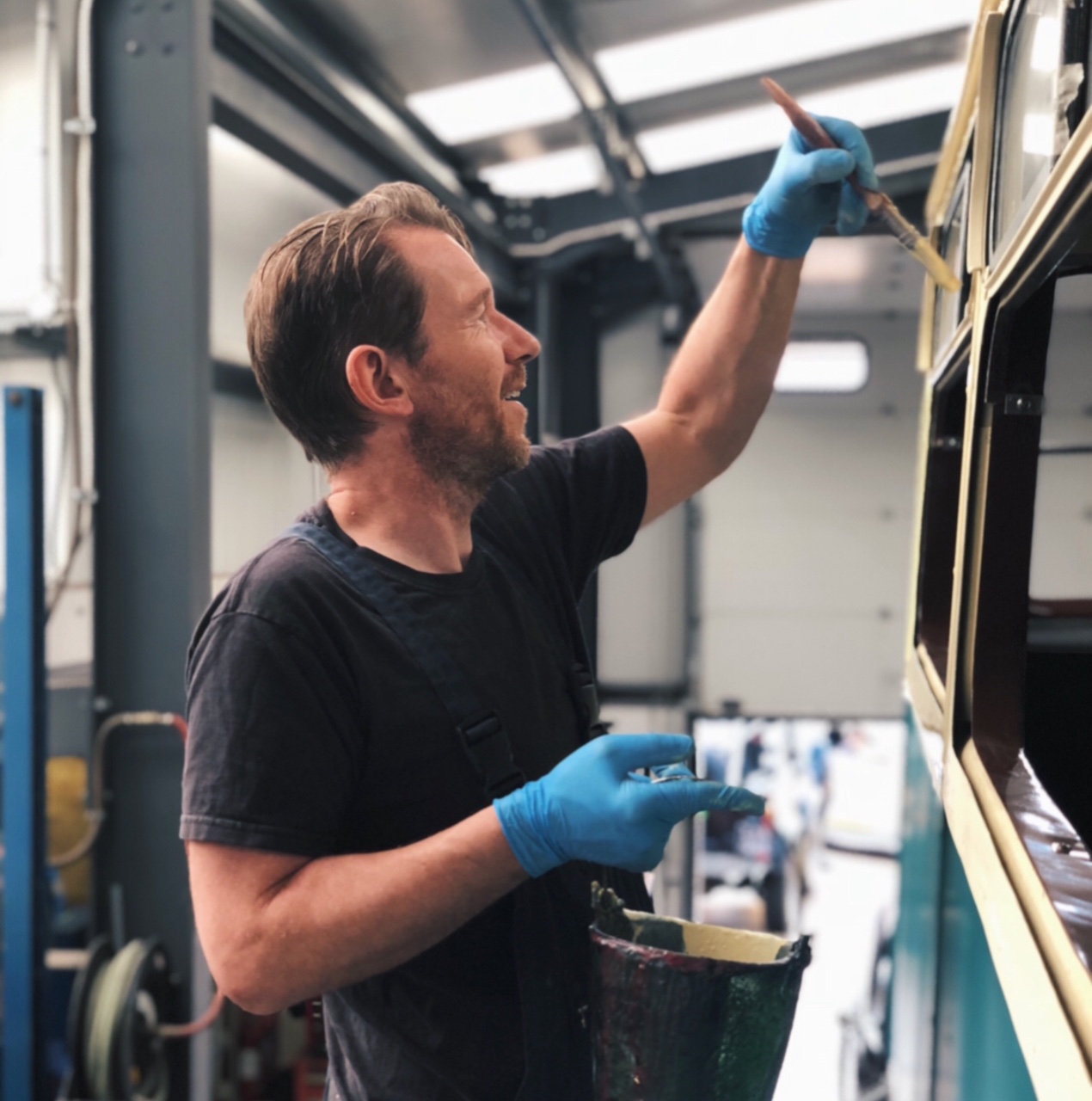 Ashley Blackman
Ashley was fortunate enough to be born into the bus and coach preservation movement in the early 1970's.
Ashley's father was a prominent collector and preservationist of AEC and Leyland half cab buses and coaches in the North of England buying his first classic bus in 1968. Growing up with his time split between living with his mother in Kent and visiting his father in Yorkshire, Ashley spent a lot of his childhood helping his father maintain and preserve a fairly large and varied collection of classic buses.
Weekends would be spent working on the buses or attending rallies all over the country, helping run a stall selling memorabilia and photographs, polishing wheel nut guard rings and enjoying the sounds of whining gearboxes. It was a hobby and a lifestyle. So at 16 (in the late 1980's) it was no surprise when Ashley bought his first preserved vehicle to restore, a Duple bodied AEC Regal coach.
"Being born into the hobby with my father having a collection of vehicles helped me gain a passion for maintaining and restoring buses and coaches. From as young as I can remember we were polishing wheel nut guard rings on AEC's, that is obviously where my love of bling originated from. Collecting, restoring, driving, rebuilding, polishing and painting is something I've always done for pleasure. I always wanted to be around and work on the buses, half cab AEC's in particular. Bus and coach restoration wasn't something I needed a degree in and I was already gaining experience working on my fathers vehicles, running a garage of Routemasters in daily service for my father which gave me huge exposure and experience early on."
Ashley went on to work on a range of vehicles on location around the country for private collectors, groups and museums, restoring, maintaining and coach painting their vehicles. This started as part time self employment and soon enough Ashley gained enough work to take the leap to become full time. From there Ashley grew his portfolio and reputation further working around the country restoring and coach painting vehicles with excellent results and word of mouth recommendations and the bookings kept flowing. Ashley then went into partnership with his wife and business partner Kirstin and The Revivist Ltd was born.
Around this time Ashley was fortunate and proud to become a regular editor for Bus & Coach Preservation Magazine and continues to write monthly articles sharing restorations, industry insights and the stories from our favourite preservationists who own survivor vehicles. Writing in the industry's preservation magazine is something Ashley treasures and is grateful to Editor in Chief Philip Lamb for giving him the opportunity. You can buy copies of the magazine here 👉🏼 https://pocketmags.com/bus-and-coach-preservation-magazine.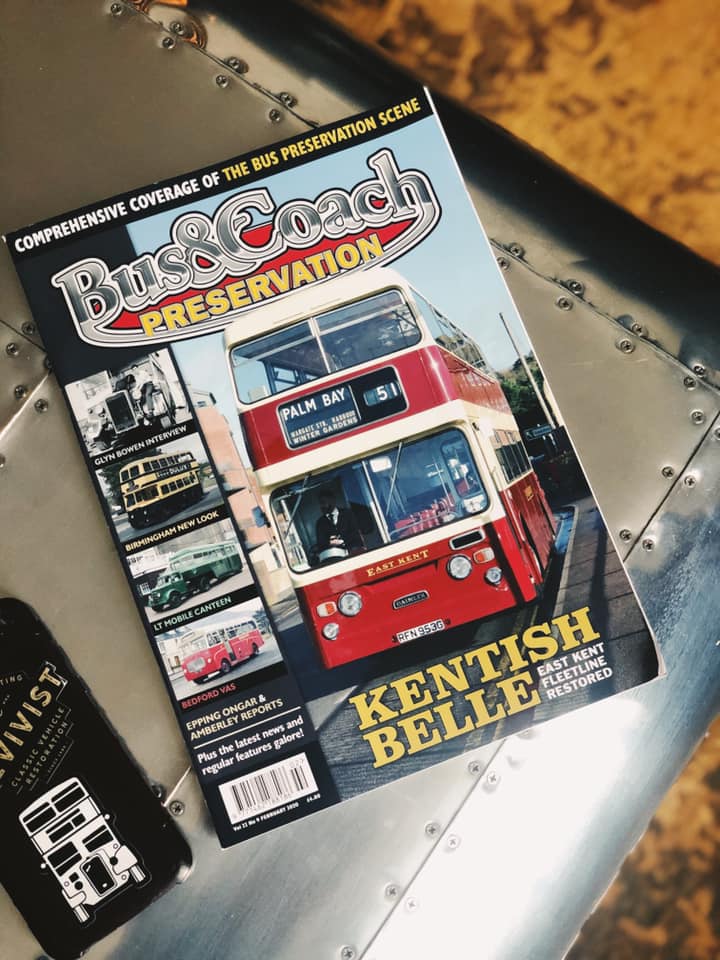 THE REVIVIST TEAM
Today with The Revivist workshop full of a variety of classic vehicles being restored and coach painted, the business has grown exponentially and the team has grown with that and services have been tailored to best serve your wants and needs.
"We are not a huge restoration firm with hundreds of vehicles coming through the workshop each year. We specialise in medium to large scale restorations and coach painting which takes valuable time and patience to ensure all the specialist work is done right. We have developed a special client base who demand high standards and we have built our reputation on this. Patience throughout the restoration process is key as we aren't going to cut corners so your classic vehicle can be in and out of the workshop quicker. Kirstin works alongside me in the workshop part time and also oversees the business side of things. She is also focusing on growing our online content so we can also share our knowledge and tips to empower those preservationists who wish to learn the skills and do their own restoration work themselves. Julian is our project manager who oversees and communicates with our clients to ensure expectations are set and met. Joe works alongside me in the workshop on the restorations full time and we also work with specialist trusted contractors who are a valuable part of our extended team" - Ashley.
One of the key benefits of choosing The Revivist as your restorer or coach painter of choice is the special services which are offered to you after completion of your project. The Revivist does not have the capacity to offer these services to everyone.
"Many of who we call our legacy preservationists aka our long term repeat clients, choose to have us travel to their bus or coach storage anywhere in the country to ensure once their vehicle is restored by us, it then continues to be maintained and looked after by us. By this point we know and understand your classic vehicle inside out so it makes sense that we can continue to ensure the vehicle is looking it's best and roadworthy. Even better you don't need to bring the vehicle back to the workshop, we will travel to your vehicle. The long term services we offer include annual servicing, oil changes etc, valets before events (we wash, clean and polish the entire vehicle so you don't have to) and keeping on top of any mechanical work, prevention is always better than calling us once something has failed. We take great pleasure and pride in looking after your classic bus or coach long term, it is your pride and joy, your investment and most of all a work of heritage art that brings you joy. We are always on hand day or night, we take the stresses of ownership away and make preservation fun" - Kirstin.
Email us: hello@therevivist.com we are looking forward to connecting with you and helping you achieve your restoration goals.

"At The Revivist we infuse fresh life into vehicle restoration, we make it WOW!"

Kirstin Blackman
WORKING TOGETHER 🤝
We are excited to bring your classic vehicle back to life through restoration and coach painting at The Revivist. Here we explain the process of working together and how we turn your dreams into reality.
✨ Send an email to hello@therevivist.com with your enquiry, including a detailed description of the work required, your desired outcome and some up to date photographs of the vehicle. Please share your telephone number and location with us.
✨ We will come back to you via telephone and discuss the restoration with you further and give you an indication on our rates and estimated timeframes.
✨ If you are happy with the potential financial investment and estimated timeframes and are serious about getting an official quotation estimate and booking with us we will arrange to visit your vehicle when suitable.
✨ After our visit we will send you an estimate quotation via email and a deposit invoice to book your slot on our waiting list.
✨ We will keep in touch and nearer the date of your booking we will recommend low loading firms for your vehicle to be transported to our site. You will need to organise the booking and make payment yourself for this.
✨ As soon as your booked space in our workshop becomes available we will make you aware and an arrival date for your vehicle will be confirmed. Before sending your vehicle to our workshop we will require a percentage of your restoration payment up front to confirm your financial commitment.
✨ When your vehicle arrives on site you will receive an email from our project manager Julian who will set your expectations on what work is planned for the month. You will receive emails from Julian monthly about work achieved and work planned. You will also get access to a secret portal where photos of your restoration will be posted by Ashley and Kirstin for you to enjoy.
✨ All restoration invoices have payment terms of 10 days and no later and will be send frequently as work progresses and materials are ordered.
✨ You are welcome to organise appointments to visit the workshop and view your restoration in progress. We will welcome you with tea/coffee and cake.
✨ Throughout the restoration process we will keep you updated through phone, email, your portal and your visits to the workshop. We will manage your expectations on work being done, your financial investment and timescales as best we can given the nature of restoration work. Communication is key and we make it fun!
We very much look forward to working with you and transforming your vehicle into a showstopper.
Email us: hello@therevivist.com we are looking forward to connecting with you and helping you achieve your restoration goals.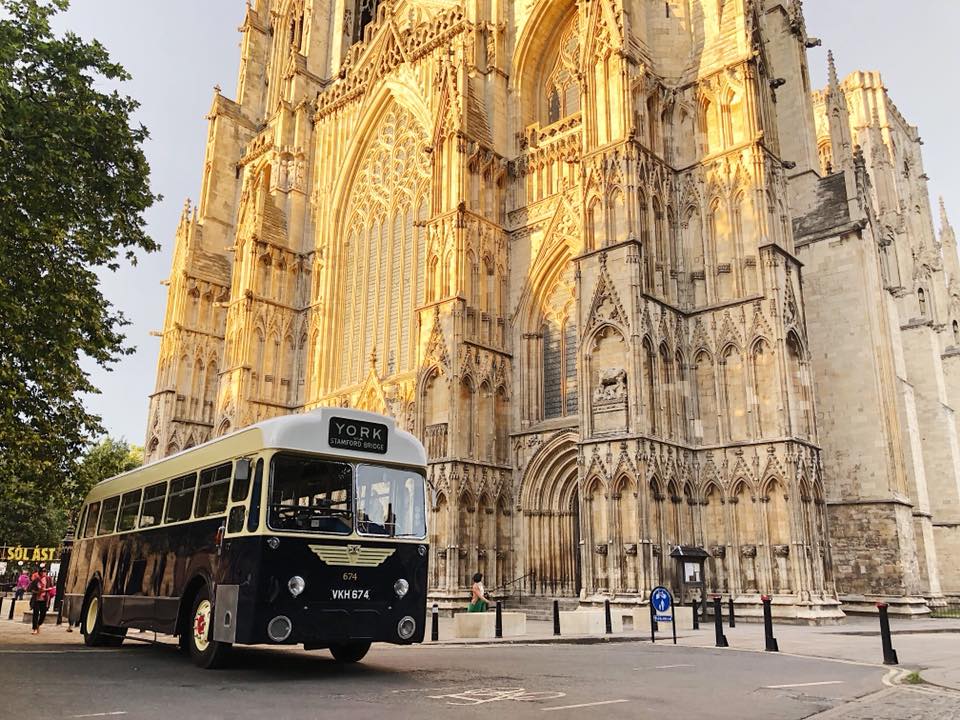 ​The Workshop
The Revivist Workshop is tucked away in a private residence in the North Yorkshire countryside on the outskirts of York and is only accessible by appointment only for clients, suppliers and friends of The Revivist.
The reason we kindly request by appointment only visit's is because we are a busy team and large vehicles - buses and coaches - move around frequently and if coach painting in progress we require minimal movement in the workshop so not to create dust. So we can ensure you have a wonderful visit and have our full attention please contact us to organise a suitable appointment date and time.
Upon arriving on site tea, coffee and cakes will be served to you from our small Black & White themed room and you will then be able to relax and admire your restoration taking shape.
When you become a client of The Revivist you are welcome to visit The Workshop to enjoy the restoration process by appointment. If you live quite a distance away we can offer accommodation and dinner recommendations in the nearby historic city of York if you plan to make a weekend of it.
We do not have fixed opening times, we pretty much live at The Workshop Monday to Sunday so can be flexible with appointment dates and times, especially if you are travelling long distance.
To book an appointment to visit us please email hello@therevivist.com and Kirstin will be happy to make arrangements for you.
We are looking forward to your visit to our little slice of bus and coach restoration heaven aka The Revivist Workshop where transformation and all the magic happens.
Please note: We do not allow photographs to be taken on site, unless you are a client and taking a photograph of your own restoration project. Please respect the privacy of our other clients projects, some opt for a grand Reveal when their restoration is completed and do not wish to see their vehicle appearing on Flickr. Please do not share The Workshop address with others without permission and please let us know if you are bringing guests along too so we can accommodate them. If anyone unknown turns up on site, unannounced please be aware the landowners who live on site will escort you offsite as the location is their private residence. Thank you in advance for your understanding 🚌🎨✨😎☕️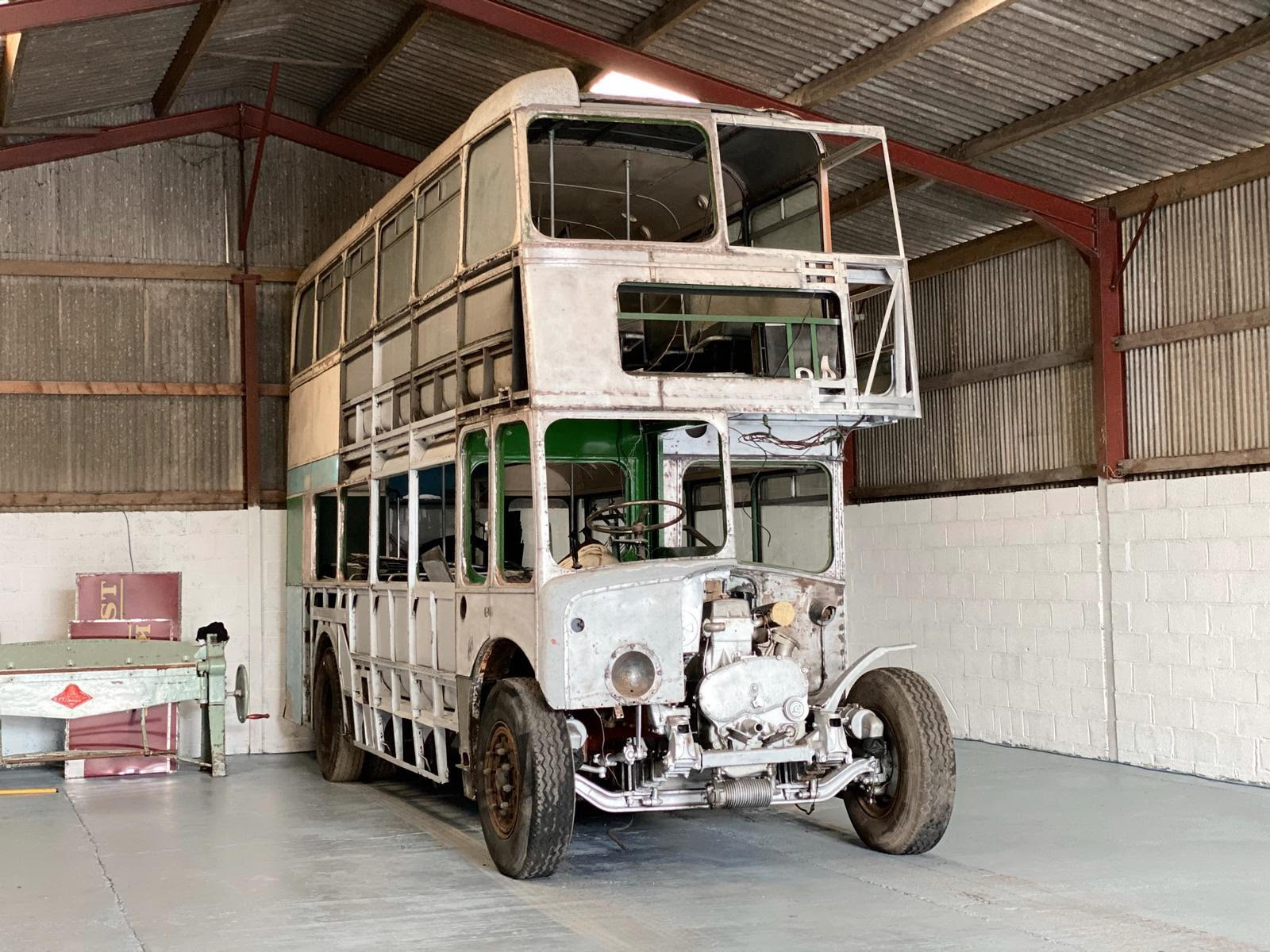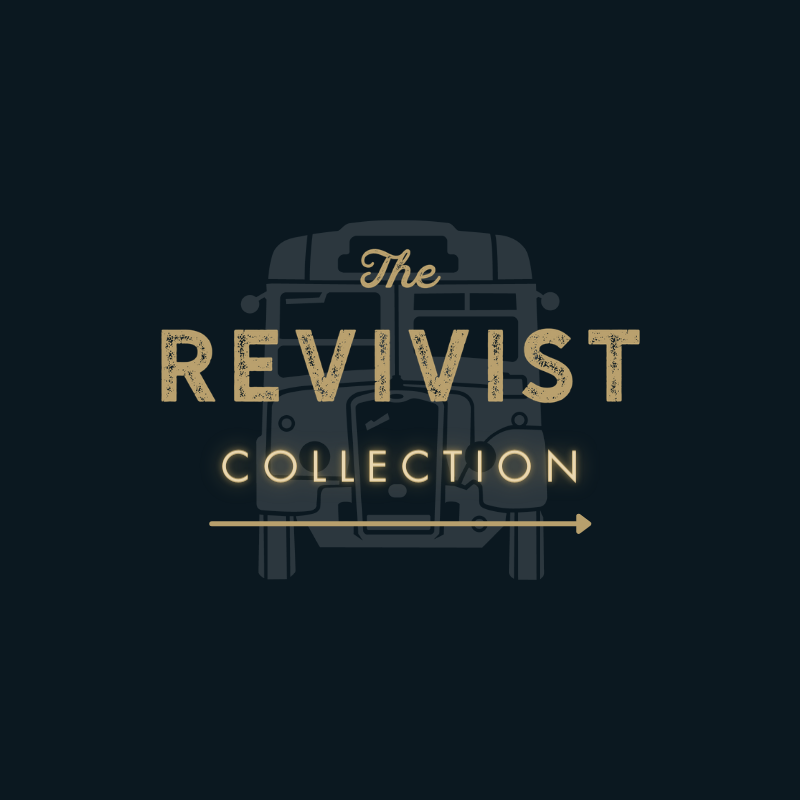 Our Mission
Along with large scale restorations and coach painting and making our clients dreams come true, at The Revivist our driving purpose is to keep coach painting alive, support the preservation movement and honour the legends who started bus and coach preservation in the 1960's all while keeping historic buses and coaches alive and well for future generations to treasure.
Spending time with those of you who created the bus and coach scene, hearing your stories, soaking up your knowledge and passion is something we treasure. You all leave a legacy which inspires everything we do at The Revivist. You are trail brazers and to those of you who are jumping in and out of half cabs in your 80's and 90's, we salute you.
Our mission is to create a friendly, inclusive, supportive and inspiring community of likeminded classic vehicle enthusiasts, preservationists and restorers who together keep vehicles preserved, have fun and continue passing on and learning heritage skills to keep the vehicles alive. Attracting more enthusiastic heritage seekers to the bus and coach preservation movement is key for us to keep the buses and coaches preserved long into the future. Big picture impact and legacy for us is key along with making our clients wildest restoration dreams become a reality.
Creating reliable, show winning, shiny and highly polished buses and coaches and being ambassadors for the heritage bus and coach preservation movement is what we do best at The Revivist.
The Revivist Collection Ltd encompasses an umbrella of brands which serve the historic bus and coach industry, restoring and preserving heritage.
The Revivist - Classic Vehicle Restoration and Fine Coach Painting - The Revivist Restoration Workshop based in York, restoring vehicles for private collectors, museums and bus and coach businesses, 24/7, 365 days a year.
The Revivist Collection - Our own collection of classic buses and coaches that we are restoring and preserving for future generations
The Revivist Club - A community of likeminded preservationists, collectors and heritage transport enthusiasts who inspire, educate and entertain each other with passion and a zest for the future of heritage restoration and preservation all while having fun and recreating nostalgic experiences together.
Ashley Blackman - Keeping coach painting alive and passing on his skills, influence and passion for bus and coach preservation and restoration, Ashley is a monthly editor of Bus & Coach Preservation Magazine, a consultant on large scale restoration projects at classic transport museums, a volunteer heritage bus and coach driver at his favourite Oxford Bus Museum and he is now creating online courses and private mentoring for those who wish to learn coach painting.
Kirstin Blackman - Brand building, marketing, talent management and social media consulting for personal brands, businesses, museums and organisations the heritage transport industry.
To collaborate with us please email: hello@therevivist.com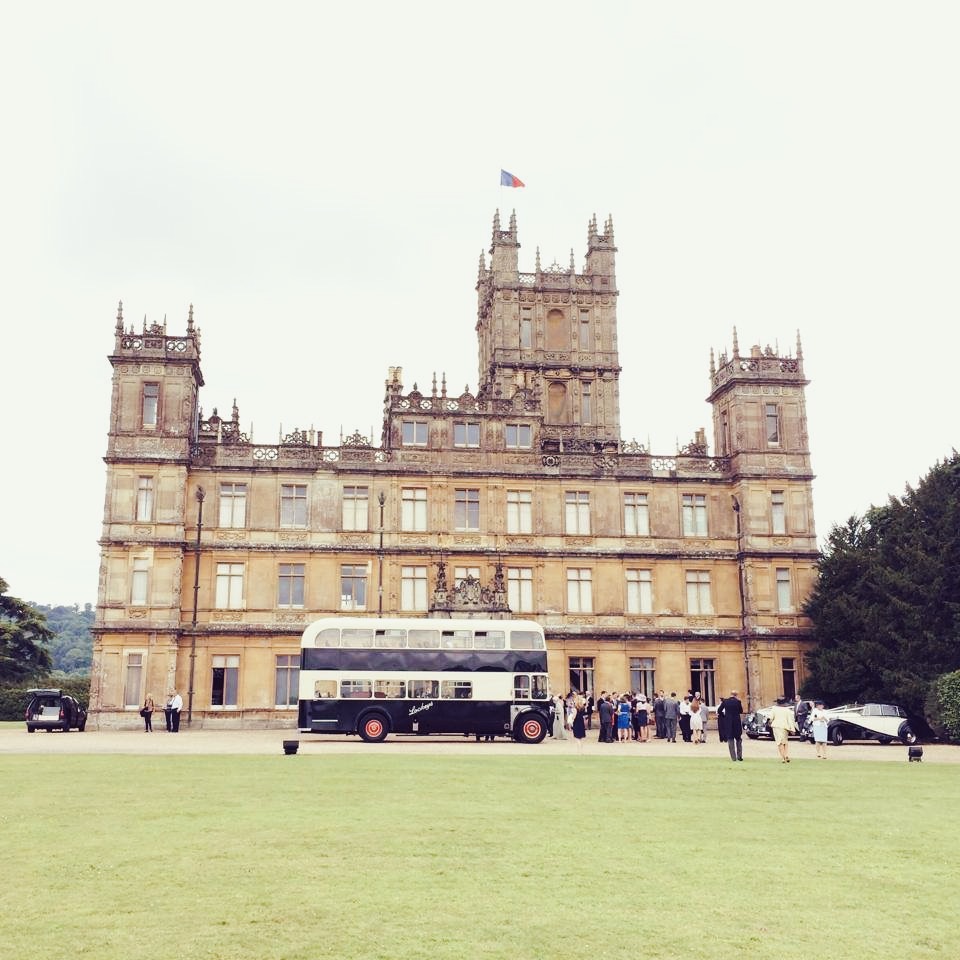 What our clients are saying
Ashley has prepared and painted two vehicles for me, 1956 Maidstone and District doubler deckers, into their original liveries. The completed vehicles are superb, and commented by many as an excellent finish, many admiring the high quality of the hand painted livery. Importantly, whilst the end product is the finished article, it is the way he goes about the project and the preparation that is important and really is a credit to him.
The way he works with his customer is very inclusive and in a way that allows the customer to understand how he is to go about the work and any issues that may potentially arise. Good preparation is critical and Ashley will ensure this is done so as not to detract from the finished article. He works very conceintiously even to the point, for us, we forgot he was there at times and just brief conversations, so he does not delay himself, will indicate progress. To see the vehicles steadily evolve through multiple layers of well applied paint is a treat in itself.
Ashley is also quite happy to turn his hand to mechanical issues and, indeed, sorted a number out for me. Finally there is "value for money" and I am more than satisfied his work passes that test. I would have no hesitation to recommend him for such work.
Paul Baker, Cambridgeshire
We're extremely pleased with Ashley's superb preparation and repaint job on our 1976 former Southern Vectis Bristol VR NDL 652R. A restoration which felt like it was never going to be completed suddenly took on a new life once Ashley became involved, with great results. The care and attention to detail employed by Ashley was exactly in tune with John and Chris's philosophy. Brush painting was an essential part of this, as Southern Vectis never spray painted anything. Ashley clearly loves traditional painting and also understands the importance of liaising with his customers, both to keep them updated and to sort out some of the finer details along the way.
Chris & John Stewart, Essex
'So the decision is made, Devon General number 9 needs a red repaint? Shall we give it a try – no, we've just seen a paint job by Ashley Blackman and we are simply not that good.
To watch Ashley in action is simply watching not just a craftsman but yes, an artist creating another masterpiece. With good preparation, Ashley will definitely create an exclusive masterpiece for you – a glass like finish using the best materials and plenty of coats and an outcome that will not just impress but astound you and your enthusiast public. Using quality materials and brushes (no brushmarks at allby the way), the result will not fail to please – guaranteed! If you have just spent a fortune on a restoration, unless your name is Rembrandt then don't try it yourself, contact Ashley – doesn't your pride and joy deserve it?'
Denis Chick, Birmingham
Not only is Ashley a first class coach painter where the end result is such that you really can see your face in the paint work, but his talents don't end just there. He is not fazed by anything and possess excellent mechanical skills backed up by his ability to tackle any bodywork problems that may arise. You can tell Ashley Blackman paintwork. His paint job is the one that doesn't display a horizontal brush line across the top of each panel.
Tony Blackman, Yorkshire
I am pleased and fortunate to have had Ashley do work on a number of my buses over recent years. Bournemouth Corporation Transport No 167 is going to Yorkshire soon for him to finish off restoration and I am totally confident it will be an excellent job one I will be proud of for many years.
Jonathan Hawkins, Devon