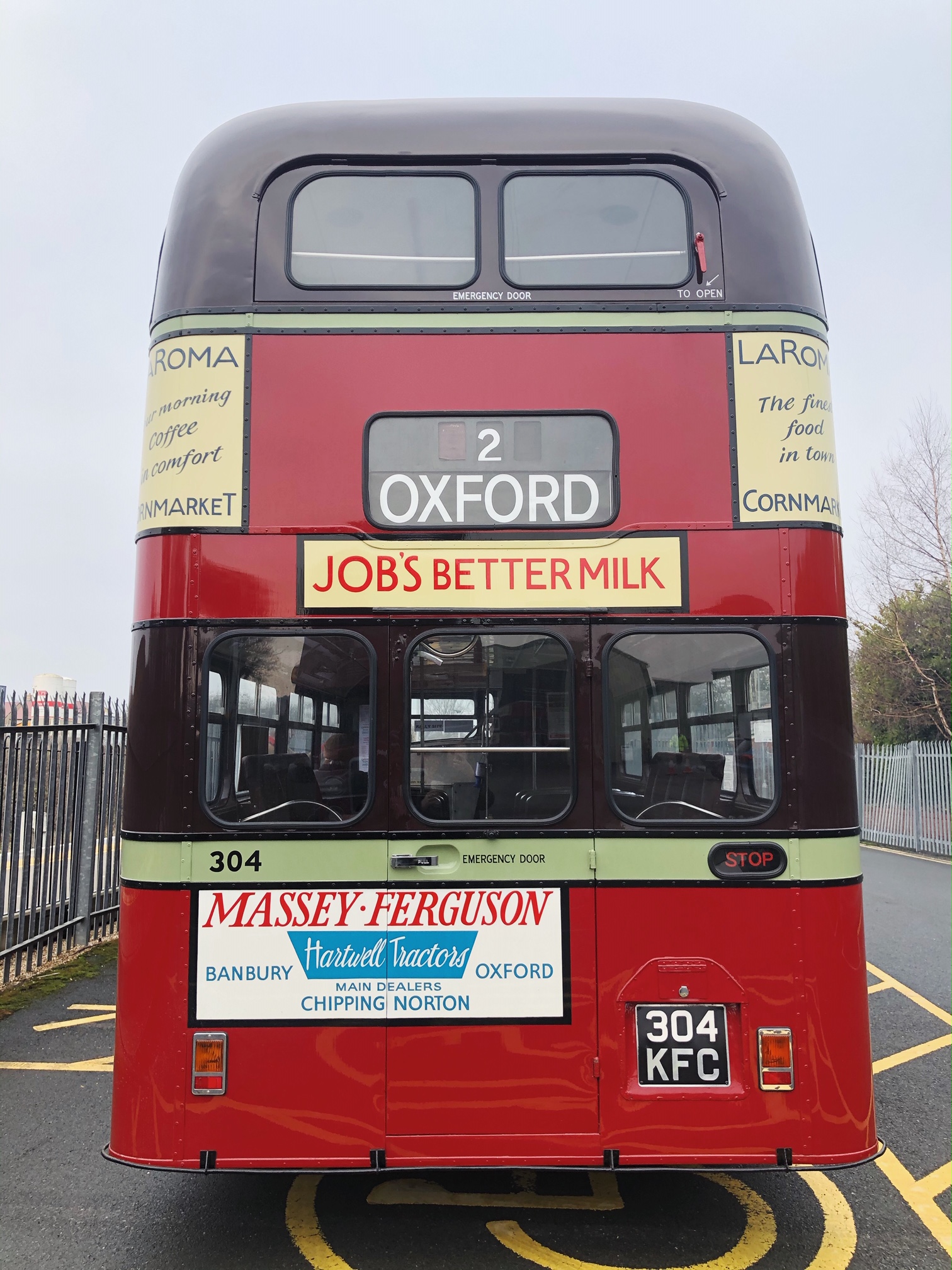 'AD' to your restoration
27th February 2022
It's time to decide if you would like to have period adverts recreated and shown off on the exterior of your bus.
​Adverts are a little like marmite, you either like periods adverts on your newly restored vehicle or you prefer to let the livery speak for itself. For some recreating these old adverts, especially if your vehicle has displayed an advert during a period of its life, is all part of recreating the nostalgia of days gone by and reliving those memories. We all remember our favourite adverts right?
For businesses and advertising agencies one of the best places to advertise and share their message is via Transit or Transport Advertising. This type of advertising is basically advertising applied to the exterior or interior of a mode of public transport and in areas such as at bus stops, ticket offices, tube stations etc.
We have all seen the adverts and have particular examples that have stuck in our minds and have been striking enough to work over the years!
Advertisers and the transport businesses would utilize as many areas on the vehicle as they could to share their message with the masses. On the exterior of buses, at bus stops, on the back of bus tickets, inside buses and even benches to name a few. This was a win win for both the advertisers and the bus operators as selling the advertising space would earn the operators extra money and usually the businesses would get a great return on investment as the public would see their message over and over again and in return often buy into whatever the ads were selling.
You can usually find advertising on the exterior of buses like a moving billboard, in the form of all over wraps, T-sides, supersides, rears and mega rears and many other designs. Even if you aren't riding on a bus you cant help but spot a striking advert, especially those buses that had the all over ads.
"People would run to catch the all over ad buses as they were fun and interesting, a work of art"

Ashley Blackman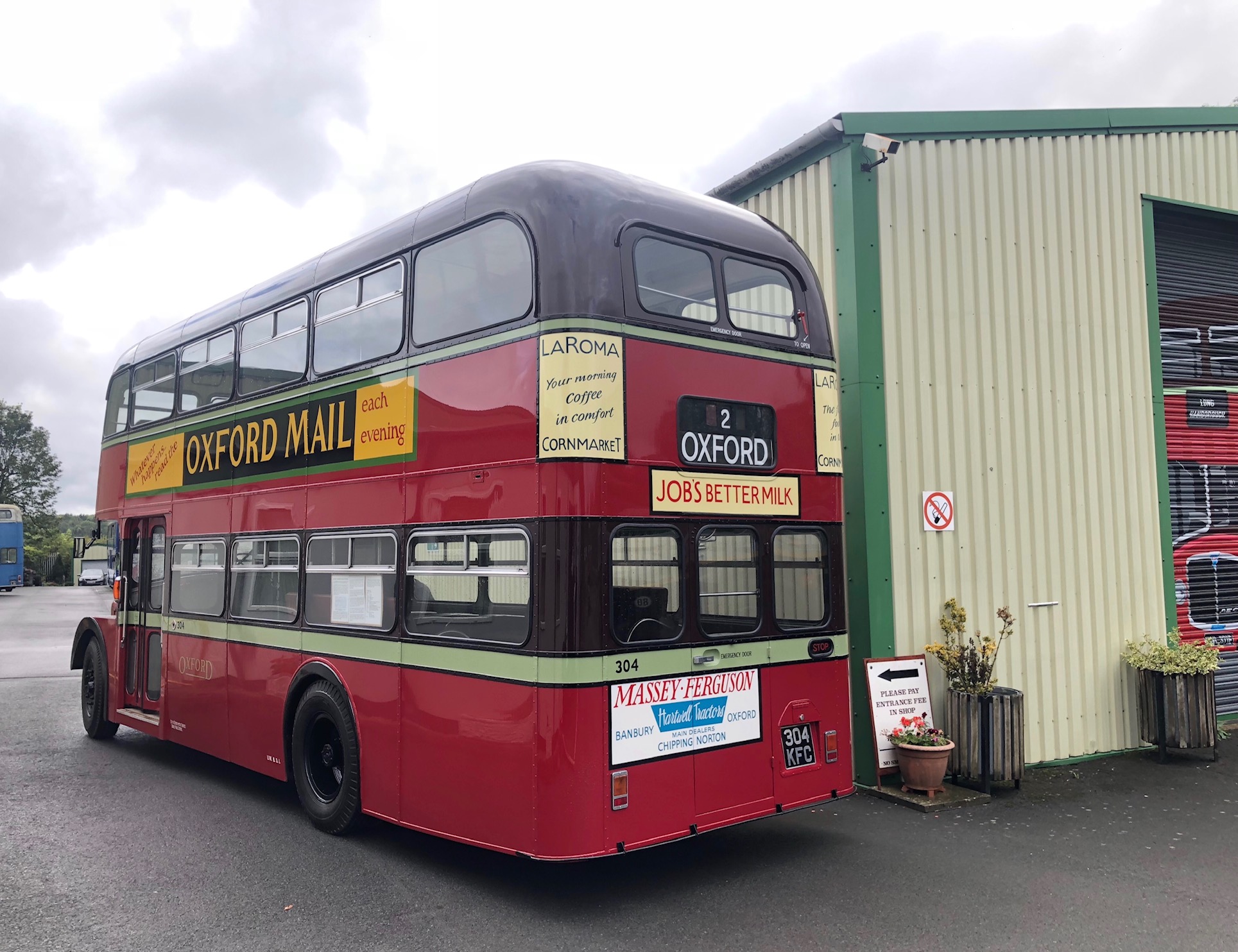 I have distinct memories of London Transport RTs in the late 1970s on the '47' in Catford and Bromley South London. The adverts I recall mostly seemed to be for London Transport itself. We also took family day trips to the Kent coast and my memory recalls a Park Royal bodied AEC Regent V sporting adverts for Rediffusion and Ramsgate model village.
Advertising on buses can be traced back as far as horse drawn buses. You would quite often see adverts for tea, whisky, cigarettes, chewing gum and banking in the 1940's and 50's.
I particularly like the adverts that London Transport carried for Picture Post with a pair of eyes on the front either side of the destination.
There was a period in the early 1960's when illuminated adverts were popular. Illuminated adverts consist of individual plastic sheets with the advertisers details on or often the own bus operator advertising. They were fitted into a special shaped panel on the offside of the vehicle and illuminated by several fluorescent tubes. I have always been lead to believe that this never took off as it was found to be straining on the vehicles battery power.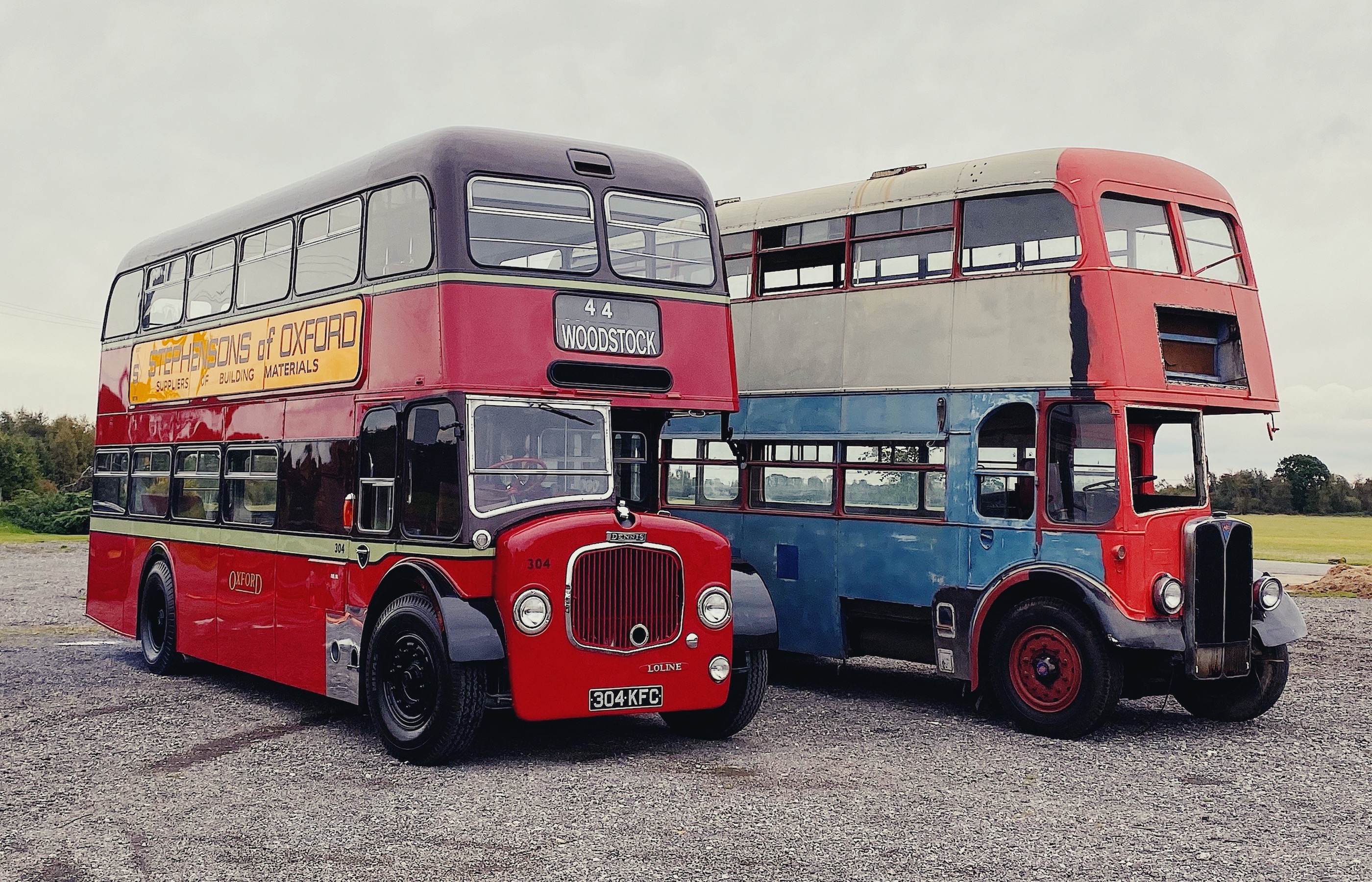 All over bus advertising seemed popular in the 1970s with various bus companies adopting this method on some of their fleet. These all over vehicle adverts, now more commonly known as wraps were back then a work of art as the design was actually hand signwritten on. This was time consuming and more costly as the vehicle would be off the road for a longer period applying and removing different paint designs. However I feel all over adverts were much more interesting back then and definitely memorable so worth it.
Then came vinyls and vinyl applied corrugated boards which enabled a quicker, easier more cost effective frequent advertising changes.
Even now you will often find brands especially in London wrapping Routemasters with campaigns and product launches and then transporting influencers on board to various product launch events. Theese influencers will share this entire experience on social media for their followers to lap up. Social media has made it so that anything cool, such as travelling on board a vintage bus should be captured and shared "to the gram" or Instagram as we all know.
Kirstin tells me you only have to type in #BurberryHer into Instagram to see beauty influencers posing up a storm on RM VLT 25 advertising Burberrys new fragrance. Try #snogbus too, although these buses are pink and not authentic they are popular and memorable with the public and are often shared all over social media.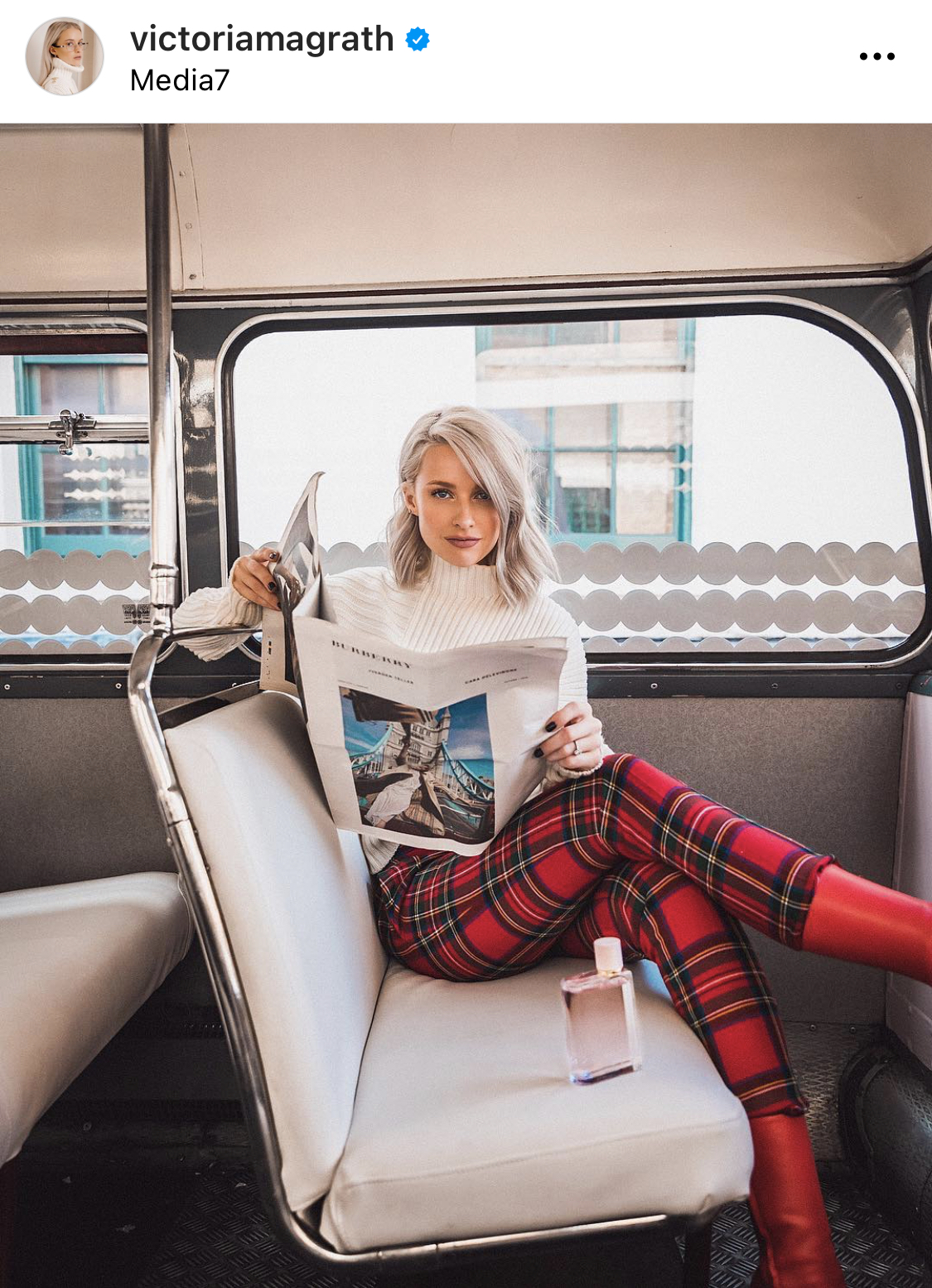 Buses and advertising have certainly come a long way. Just think if most of the public walk around staring at their phones, then social media really is the way forward for advertising and any bus that catches the eye, is out of the ordinary or looks fun will appear somewhere on social media.
Of course these classics can be repainted authentically after the brand activation.
Preservationist John Davis recently told us about his experiences witnessing the hand painted full bus adverts in progress in the workshop that the Isle of Man Road Services turned out in the 1980's. John remarked how amazingly detailed the hand painting of these buses were and how it was very much a work of artistry. These included the bus covered in flowers and a rainbow advertising keeping the island tidy and another covered in hand painted bricks, a front door, sills under the windows, a cat flap and milk bottles advertising "Look for the sign where Chrystals have the key" for a local estate agents. These really were elaborate. You can find these photographs on Flickr. Search for W849MAN Leyland Atlantean and W848 MAN.
Adverts were also applied inside the buses on the curved panels above to catch your eye. You couldn't help but notice the ever changing designs and messages as you took your seat and looked up at what was new. More often than not these adverts would share information about the bus companies own ticket offers or routes and their coach excursions.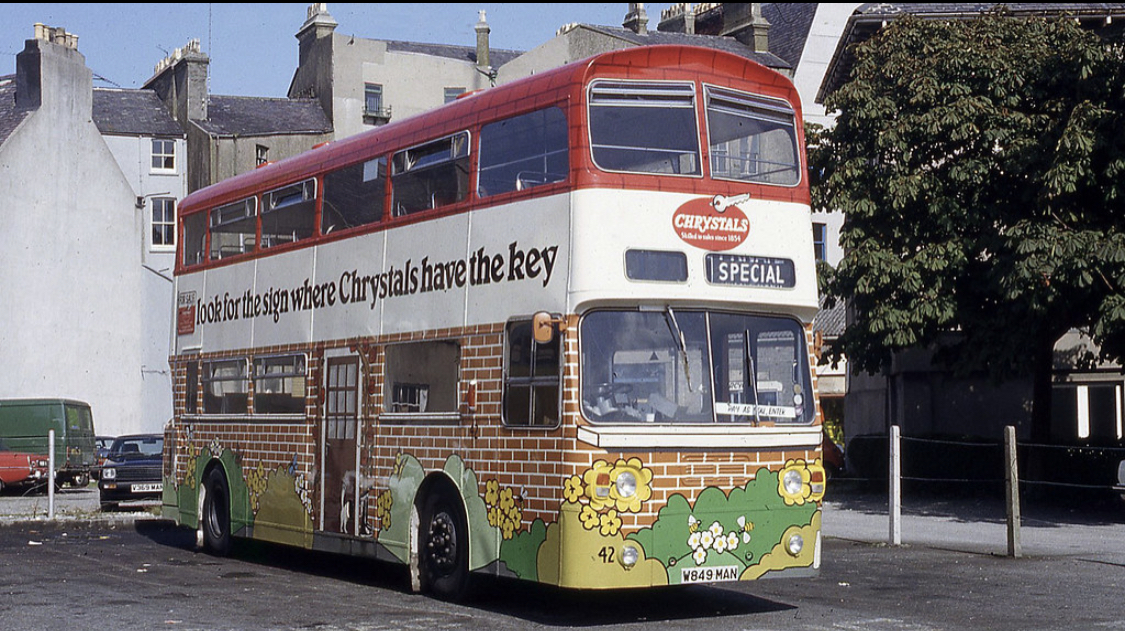 So why would you choose to have an advert on your newly restored bus? Well it's all about the nostalgia, if you remember an advert fondly, maybe you just want to recreate the bus exactly at a period in time or maybe even you would like an ad that reflects your humour, interests such as holidays or your favourite whisky.
You might even be able to get sponsorship for applying an advert to your classic which could help with restoration costs.
Keith Jenkinson has owned Keighley West Yorkshire ECW bodied Leyland TD2 for some 50 plus years. It carries hand painted adverts for Dewars Whiskey which Keith painted on himself in 1972 in time for a celebration of Transport in Brussels in 1973 as part of the UK joining the common market. Keith was sponsored by Dewars Whiskey to paint these adverts on.
The reason for this Keith believes is that one of the other buses to attend this event was Prince Marshalls London ST which carried adverts for Johnny Walkers Whiskey so he thought he was approached by Dewars to apply these for this reason as they didn't want to miss out on a bit of advertising too. The Heinz advert on the back corner panel Keith painted is a period advert carried by Keighley West Yorkshire vehicles. These painted adverts have stood the test of time and they still look fantastic and characterful now.
Now I know some buses and especially coaches never carried adverts so if you have that particular vehicle that never had ads then you won't need to think about it unless you really would like an ad of course. A lot of municipal operators didn't carry adverts for many years until maybe they thought it was financially viable to start applying them.
When I'm restoring a bus for a client one of the discussions we have when it comes to the finishing touches is if adverts will be required and I always recommend signwritten adverts. One particular exterior restoration that comes to mind was for Chris and John Stewart's Southern Vectis ECW bodied Bristol VRT. Chris researched from pictures and came up with a great local advert for Southern Vectis itself "See the island from the top deck of this bus". Chris and John have told me that this ad has become a great talking point wherever they take their VRT to events.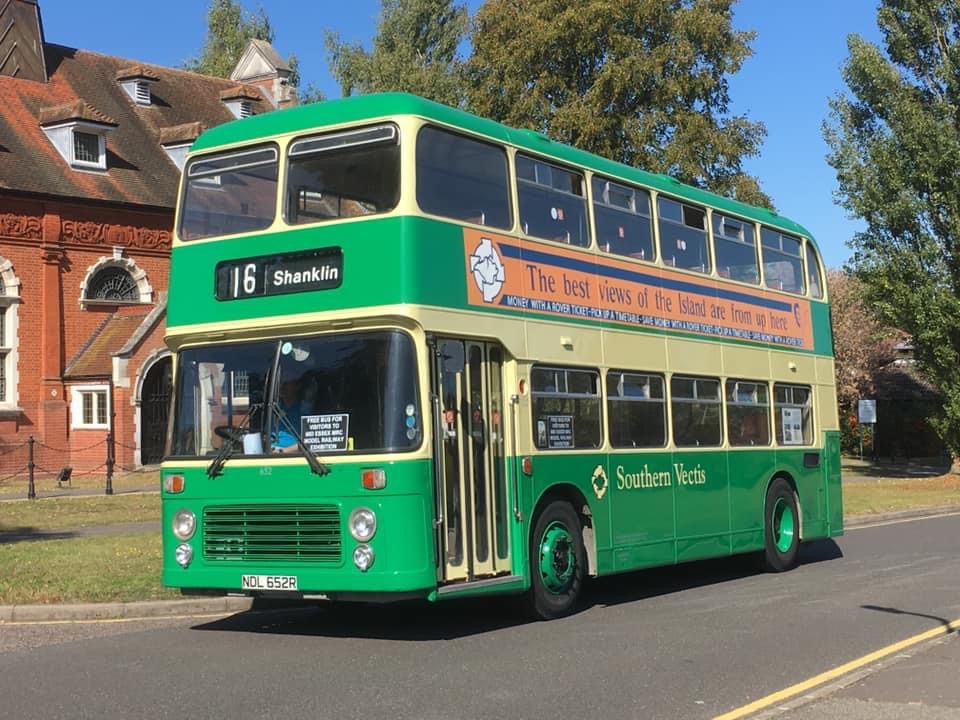 I'm not sure if there's much availability to get paper adverts now as these were what was used before the introduction of vinyl, I managed to get my hands on an original paper advert for Torbay aircraft museum which I applied onto Willowbrook AEC Regent V 518 Ex Devon General, which looked the part.
You can get very good reproductions on vinyl if you have a good picture and measurements but I personally don't think they look as good as hand painted adverts. So if you can, get your adverts hand painted as they will last and look splendid, after all this is going to be one of the main features of the vehicle.
Dependent on the age of your vehicle you might be considering vinyl which would be correct, bearing in mind a lot of operators did have sign written adverts right up until the 80s and 90s.
Here are the steps I recommend taking when it comes to choosing adverts for your pride and joy:-
First of all research your vehicle and the vehicles history, you will probably already know all that needs to be known, but take a look at the adverts it carried if any back in the period of service you are reproducing. Use Flickr, books, buy old photographs at rallies, Facebook groups and forums for help if needed. If you cant find your vehicle in particular then take a look at the buses from the same fleet and era and what advertisements they displayed at the time.

If you were lucky enough to discover any authentic advertisements underneath the paintwork during preparation make sure that you documented this. Either take a photograph or carefully rub away the paint until you uncover the outline of the advert then you can trace the lettering. If you are unsure of doing this then get a professional to measure up and reproduce the advert either via signwriting or vinyls.

Decide on the advert design you would like to reproduce, this can be anything from something you know your bus had displayed to an advert you remember well or even an ad that matches your personality as I said before. Collect as many photographs as you can of the advert, preferably a side on clear photo. We have been able to reproduced adverts from odd angles and blurry photographs too with signwriters.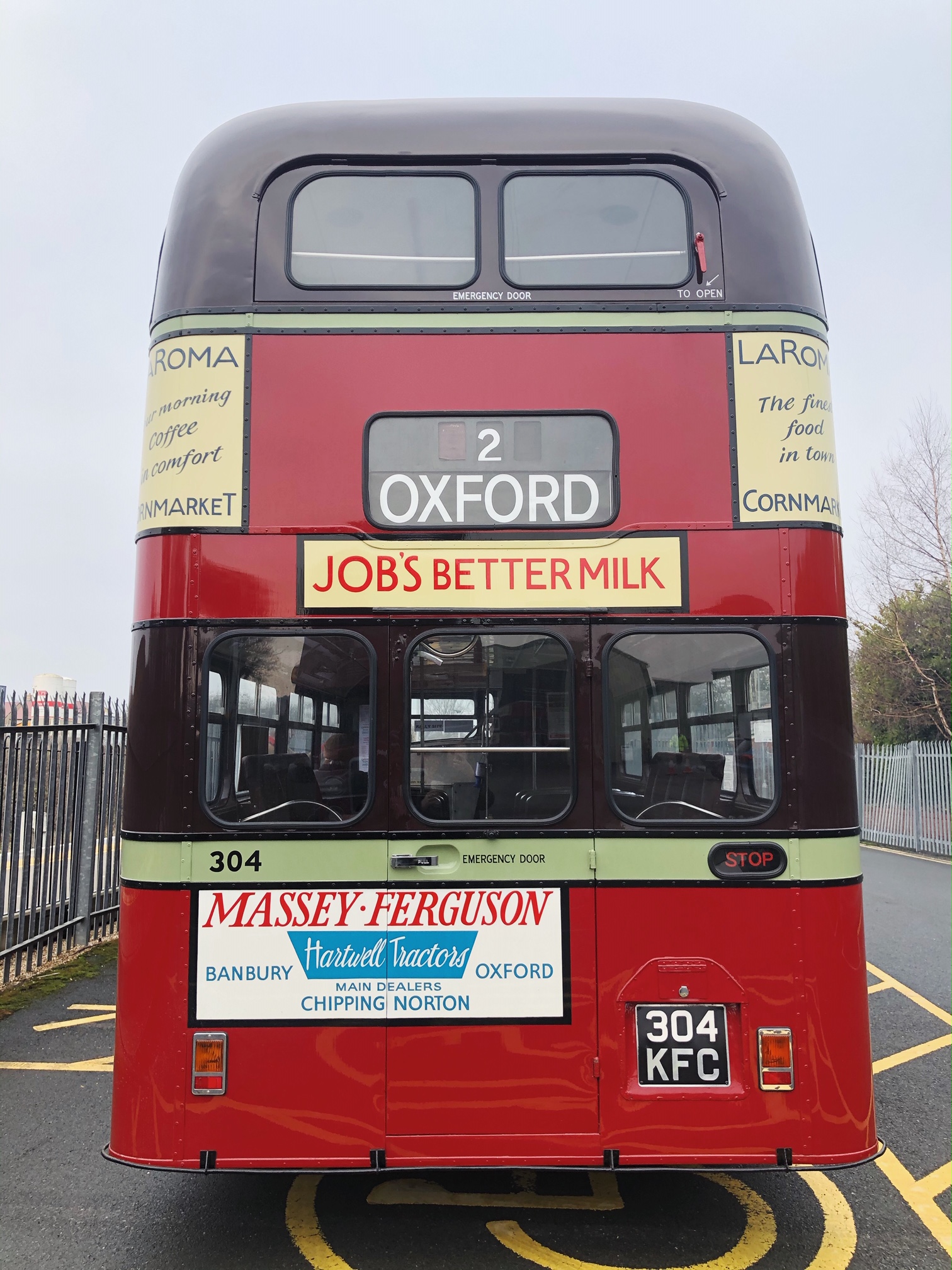 If you are lucky to choose an advert for a company that is still in business then it is always worth approaching them to ask for sponsorship. You never know and the sponsorship will enhance your restoration funds.
Make sure to match the fonts and colours as best as you can using your references. If you can only view a black and white photo then make sure the colours you choose are inkeeping with the period as colours are much more vibrant nowadays and wont look appropriate.
Once you have established the artwork you prefer and you have all of the artwork set up decide if you would like to go with hand painted or vinyl and source a reputable supplier. Ask to see their work first if opting for sign written and if you are choosing a vinyl then make sure to ask for proofs and see the quality of the vinyl before printing. If you have contacts who have used particular suppliers in the past and can recommend them then go with those. I wouldn't recommend paper adverts as these can peel away over time.
After the adverts have been applied, ensure you are delicate with the aftercare. I always advise to wash your bus only with a clean grit free sponge as over time brushes can scratch, chip and damage the artwork.
Admire your new adverts with friends and fellow preservationists at events as your bus takes on a new identity, stands out in the crowd and brings back all the memories.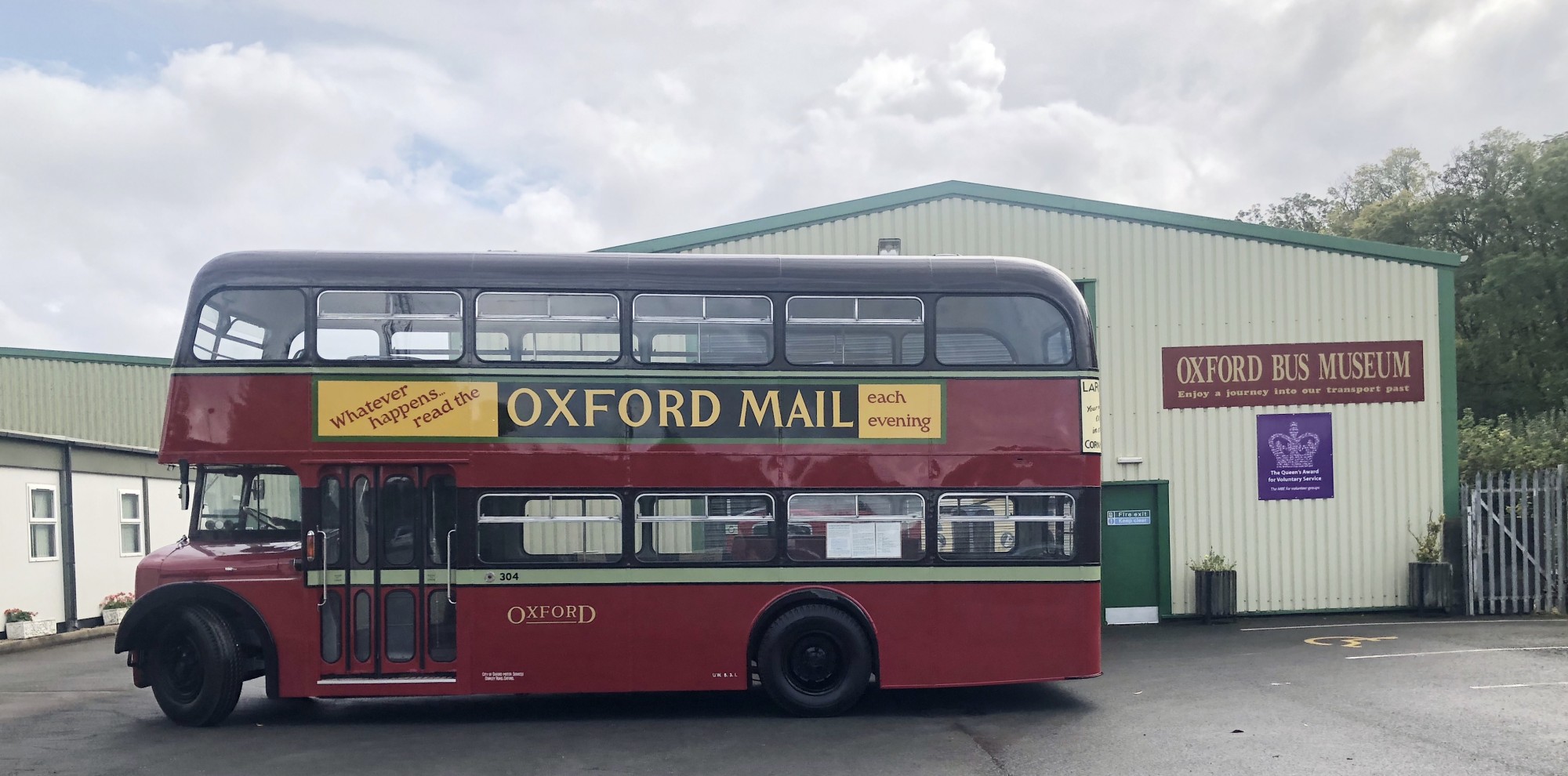 Related Posts