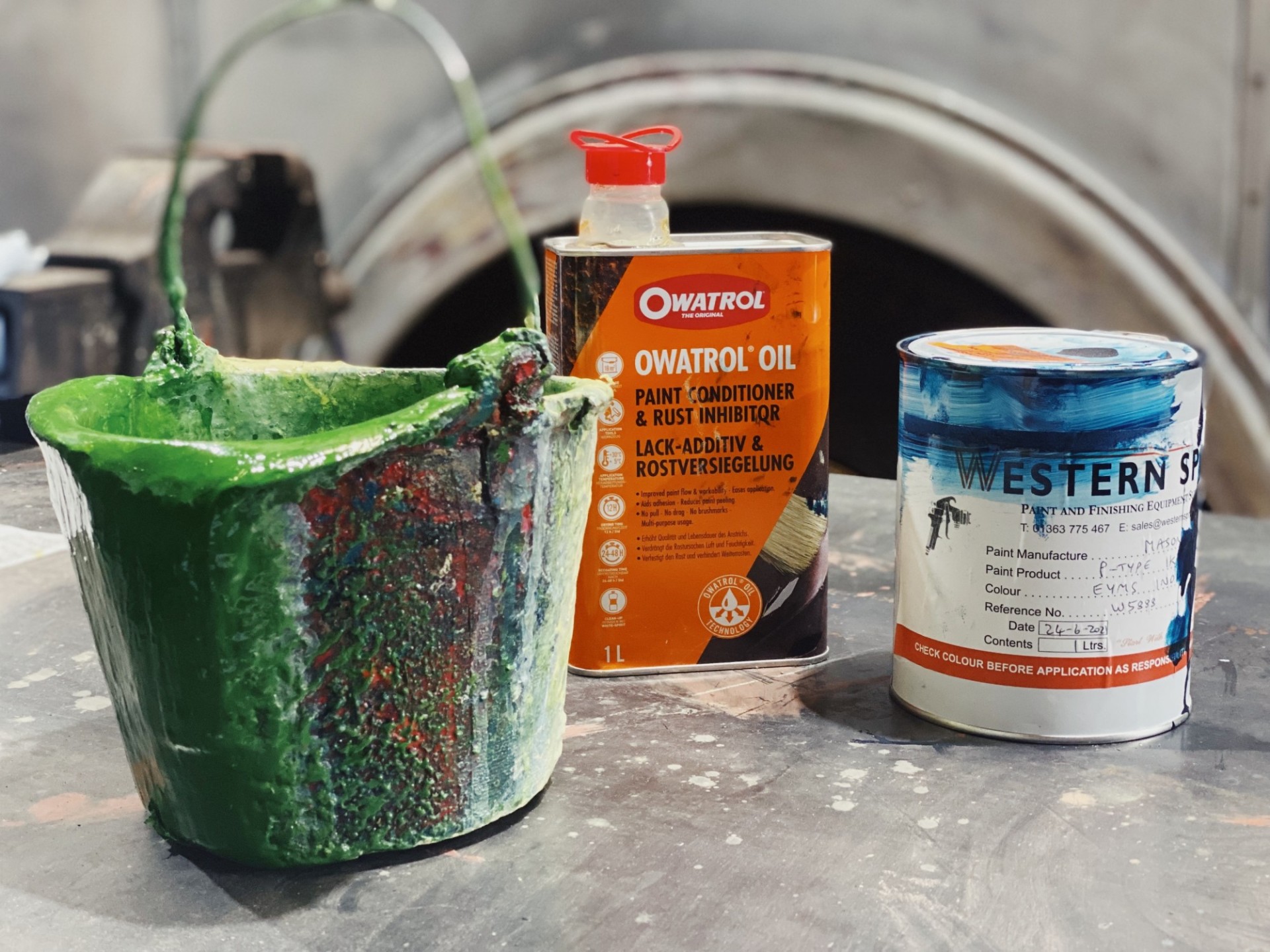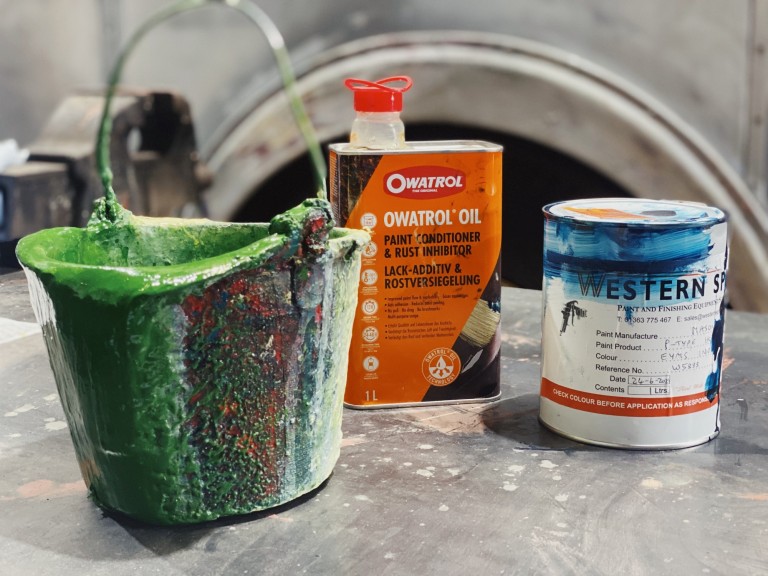 A lick of Paint
27th February 2022
Having your bus or coach freshly painted transforms the entire look of your vehicle, especially if it is currently looking tired and in need of some TLC.
If your bus or coach is undergoing a full restoration and is taking some time, you could be feeling like you are never going to see it finished and the to do list seems never ending. Don't be disheartened as soon as fresh paint starts to be applied after extensive and thorough preparation, you will quickly be able to see the shining light at the end of the tunnel or paintwork in this case. So many of my clients are amazed at how in just a few weeks their vehicle is transformed from looking like a bare shell to a gleaming machine. So if you are at this stage, well done, you are nearly there and closer to your preserved bus/coach being show ready.
Before painting can commence, there are some important factors to consider, so you can decide on the standard, authenticity, method of application for the paint finish you require on your pride and joy. You want the paint job to stand the test of time and not need a refresh in a few years, so invest wisely in a high quality paint finish and ensure plenty of coats are applied for a rich depth of colour and shine.
If you are aware of my work you will realise one of my passions is coach painting as it is a classic skill I have grown up to appreciate and learn. Coach painting is the method of applying paint to surfaces using a good quality brush, Hamiltons is my favourite, leaving no trace of brush marks or other imperfections. Growing up in bus preservation being surrounded by classic buses from the 1920's – 50's, traditional coach painting was the only way to paint these vehicles to maintain authenticity. I was taught how to coach paint from my father Tony who was taught by an ex Blackburn Corporation coach painter. If there are any other coach painters out there who could tell some stories from back in the day, please get in touch with me, I would love to hear from you.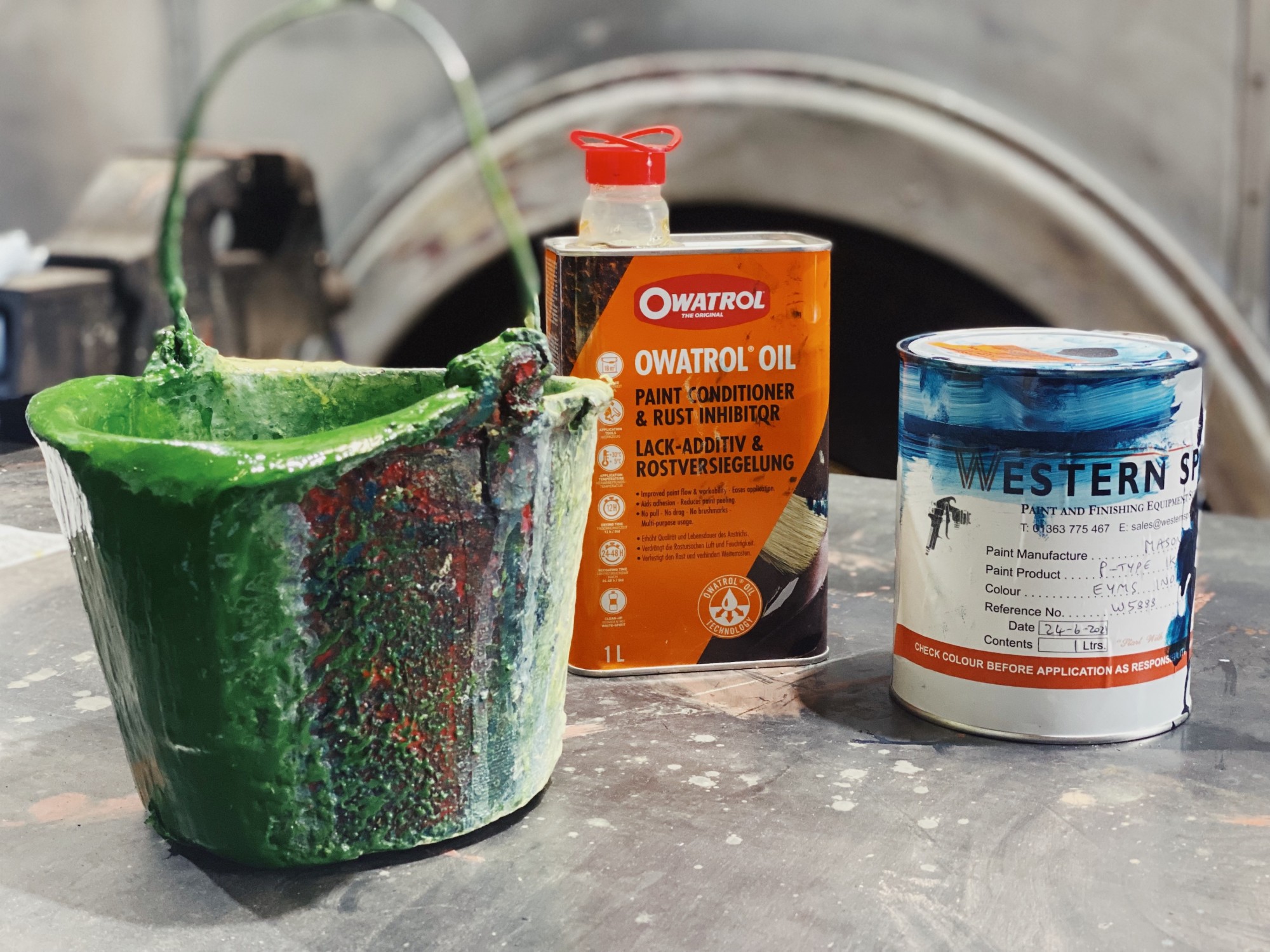 After spending a lot of time learning and practicing coach painting on my own vehicles many years ago, I subsequently honed my skills and gained experience by painting a great variety of clients buses and coaches, even trucks and a fire engine. That's how I found myself fortunate enough to pursue traditional coach painting as a career along with mechanicals, bodywork and pretty much anything to do with maintaining and restoring classic buses and coaches. Keeping the traditional coach painting art alive on classic vehicles is so important to me and I will continue to hone my craft and champion it for as long as I physically can. Later this year I will also be attending my first signwriting course, something I am looking forward to learing and practicing in my spare time! Many will often say "has that been sprayed" about my work and are amazed that such a flat seamless finish can too be achieved with a brush which I take as a great compliment.
Next time you attend a rally or show see if you can spot the which buses have been coach painted or sprayed. Do you have a preference, was it something you even thought about before? Is the authenticity of how your bus or coach is restored and preserved important to you? I personally wouldn't like to coach paint a vehicle that would have been sprayed and visa versa.
Whether your bus or coach is undergoing a full or partial restoration and you are at the painting stage or maybe you're thinking your favorite vehicle needs a paint refresh, I hope you find this article thought provoking and helpful.
What stage/livery of your vehicles life are you reproducing?
Time to dig out books and photographs of how your vehicle looked in its service life. What period in time are you wanting to preserve. If your bus or coach had many different liveries and spent time with different operators in its life then you will want to choose which period in time you fondly remember or prefer. You might like your vehicle to be painted in a livery you remember riding on or maybe you would like to be different and choose a livery that an independent company ran your bus/coach in that hasn't been recreated in a long time.
Controversial but maybe you are hiring your vehicle out for private events or weddings and want to create your own livery which will be popular with brides and grooms and continue this vehicles life in service?
Whatever livery you decide on, choose carefully as it is a time consuming and costly job to redo if you change your mind a few years down the line.
How do I source the authentic paint colours?
Do as much research as you possibly can, seek out preservationists and professionals who have already painted vehicles similar to yours in the particular colours you prefer to see what type of paint and codes they have used. You could also check with a group of enthusiasts who are experts in specific periods, operators or vehicle types about authentic paint colors. There is usually always someone who knows the exact colour and paint used by particular operators, so seek these people out, ask in Facebook groups or forums.
Some popular paint brands for coach painting which you might have heard of include Masons, Williamsons and Craftmaster paints.
Specifics on signwriting, varnish transfers and vinyls will be discussed in a future article.
How will the paint be applied, via traditional coach/brush painting or spray? What method would be authentic to your vehicle?
If we go back even as far as the 1700's in Great Britain, coach builders were using skilled painters to traditionally "coach paint" carriages. These coach painters would take great care and time over the process, priming, varnishing, smoothing out the brush marks with a pumice stone and applying layer after layer of colour and varnish to create an even finish. Then decorative signwriting would be added before a detailed final polish. Coach painting took weeks and sometimes over a month to complete. This method was continued with trams, steam locomotives, buses and coaches and many other vehicles until the revolutionary invention of spray painting was introduced. Spray painting saved operators a lot of time. When we talk about spray painting, many of us automatically think that this is something relatively new, but it too can be traced back to the United States of America. In the early 1880's the Southern Pacific were spray painting using compressed air.
So which method should you choose brush or spray? Do you want it authentic or not? What are your main reasons? Do you want a show vehicle or a vehicle you are going to use everyday.
If you are wanting to be authentic then a little research is needed on your vehicle, to find out whether it was brush painted new or sprayed. Or you might want to depict the restoration of your vehicle as it was in later years in service.
To me the traditional brush painting era for buses and coaches is from the 1900s right up to the 1980s when operators would still brush paint their vehicles in house. Now I know that companies like London Transport and other large operators had started to spray paint their vehicles in house upon repaint as early as the mid 50s, but many operators and body builders kept the art of painting with a brush going for decades. There are still many skilled coach painters and signwriters out there, practicing this age old art, especially amongst the steam and canal world.
You can try this yourself but unless you already have some know how, it takes time and practice and the preparation in between coats is a lot of physical hard work. There are plenty of articles and videos online that show you how. Once you get the hang of it, coach painting is very rewarding.
I don't confess to be a spray painter, but I do know like brush painting it requires a certain amount of skill to create an even and flawless finish. It can be quicker method of painting but this all depends on how many coats you apply and like brush painting the more coats the better and deeper the finish.
Spray painting is basically paint mixed with compressed air pushed through a gun with an adjustable nozzle for consistency. Spray painting had and still has to this day so many advantages for coach and bus companies, time saving being one of the main advantages. The time saved having a fleet of buses or coaches sprayed into a new livery or refreshed has proven in some cases to be much more lucrative for businesses as the bus was readily available quicker to use than if it was painted by hand.
There are plenty of great brush and spray painters out there. Before choosing who will paint your bus or coach, make sure to ask how many coats will be applied, check the samples of the paint they will be using first to ensure the correct shade is being used as there is nothing worse than turning up to a rally and being parked next to another vehicle preserved from the same period and operator and the colours clashing. See if you can view some of the professionals past paint jobs first. If opting for spray, steer clear of the orange peel finish and if opting for brush steer clear of thick brush marks/the yard brush finish. Look at the attention to detail and depth in the paintwork, there should be a deep gloss finish with both spray and brush methods.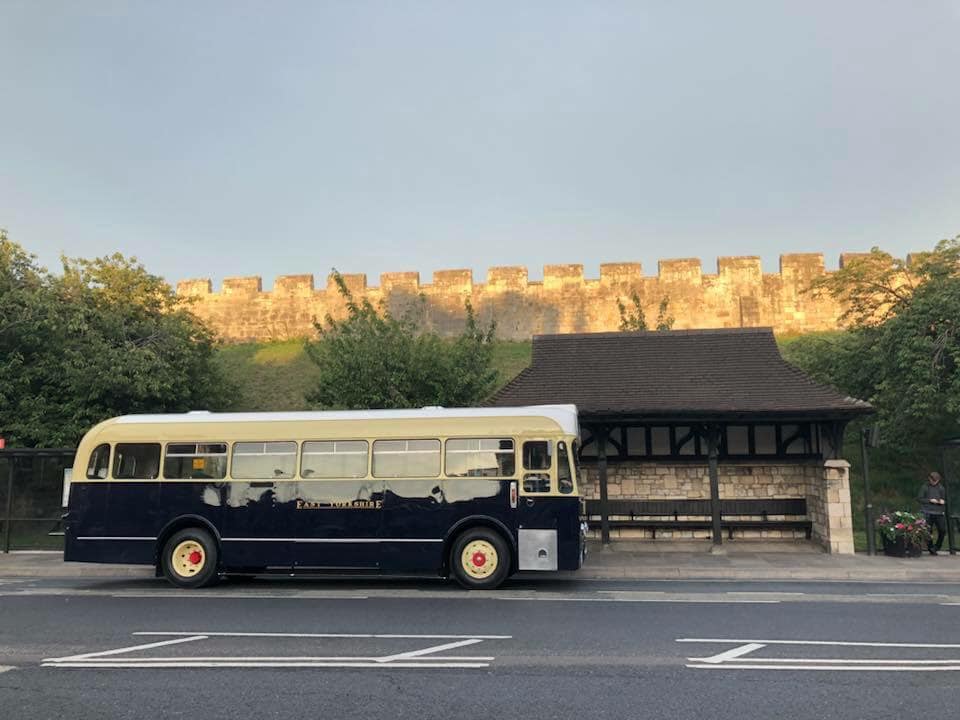 What environment is ok to apply paint and how long will it take and cost?
I am unsure of spray, but I can brush paint in most conditions and buildings, except damp, extremely dusty or windy locations.
Just to give you an idea of how long it takes to brush paint a double decker, 3-5 weeks depending on the livery, this doesn't include pre preparation time. Spray painting can be quicker or the same dependent on the amount of coats applied and the professional you choose.
Either methods can vary in cost depending on what quality job you are wanting, but remember you generally get what you pay for and you want the paint to last for many years, the more coats of paint the longer it will last. I don't think there is too much difference between the cost of coach and spray painting, a lot of the price depends on reputation, livery and amount of coats applied.
How do I keep my new paintwork looking fresh?
Paintwork is the first thing people notice so maintaining and looking after your vehicles paintwork is important to avoid it looking shabby pretty quickly. It wont look after itself, aftercare is required so look after your bus or coach like you would a classic car. Granted it takes a lot longer to wash a double deck bus, but like everything in life, if you look after it, it will look after you.
Always wash new paintwork with a sponge and wax shampoo, keep your vehicle wax polished and detailed, as this will maintain the shine like new for many years. I wouldn't recommend washing your bus especially if the paintwork is of show quality with a brush or putting it through a bus wash as you will scratch the paintwork. Also drive carefully when passing low trees, the last thing you want to see is scratches or dints in new paintwork. That has happened to one of my clients and I had to fill and repaint a section of roof.
It goes without saying that the best place to store your bus or coach is undercover in a closed building as paintwork can deteriorate quicker if left to the elements.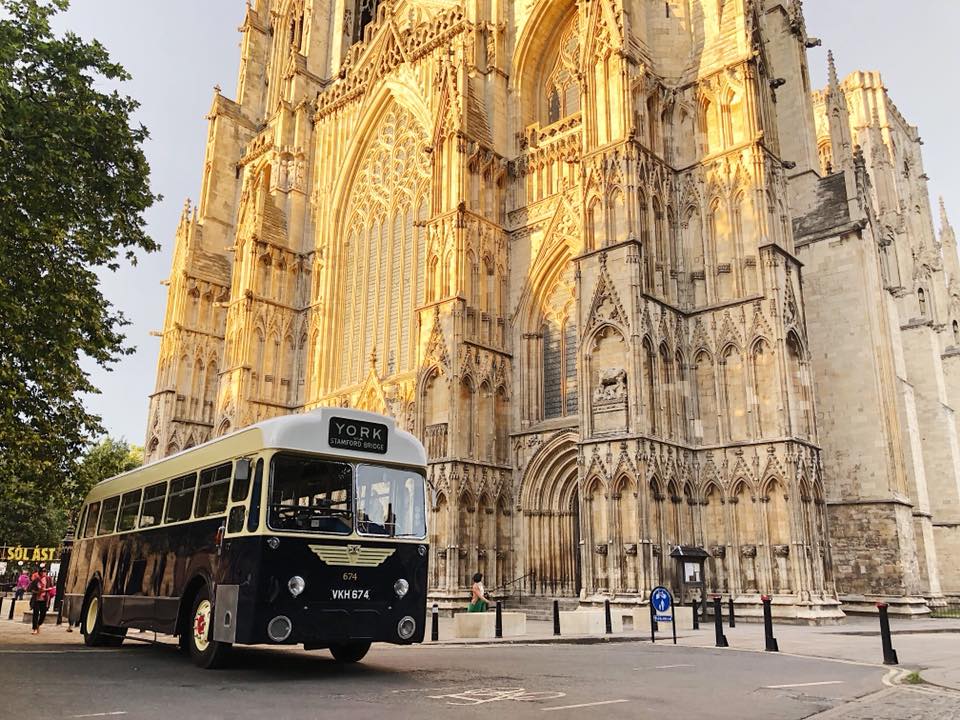 East Yorkshire Albion Aberdonian
January 2018 issue you may have seen the article on Malcolm Wrights Ex East Yorkshire Motor Services 1962 AEC Bridgemaster 725. It mentioned that he recently acquired for restoration Ex East Yorkshire Motor Services 1957 Albion Aberdonian. This vehicle was unique to East Yorkshire as being the only one delivered especially for Pocklington Garage to run local services to all the surrounding villages in the area. Later it was used as a left luggage store in Scarborough then being saved for preservation and rallied in the 1980s. And after an extensive engine rebuild by Ebor trucks of York and then over the winter months I carried out a exterior preparation and traditional brush paint.
The Albion was taken down to bare metal before applying the indigo and primrose which EYMS are famous for. Each panel flatted down between coats and plenty coats too. This is the key to a deep gloss finish, you should be able to comb your hair in the reflection and this gorgeous livery certainly shows that off. I kept joking with Malcolm that it just needed another coat, just when he thought the job was finished. Malcolm also invested in having all new chrome and bright work polished which too makes a huge difference. Malcolm is more than happy with the end result having two pristine vehicles to polish.
And he's since been cleaning and polishing the Albion inside so sun glasses at the ready then. He shall be attending various rallies in the north of England with the Albion soon.
I did hear recently there is a trend circulating at the moment for "barn find" looking buses and coaches with a worn shabby paint look or historic charm some might call it. I personally am a fan of the smart and tailored "I just came off the production line" show stopper look. What is your favorite finish I wonder, brush, spray or rally it as you found it? Do email me with your thoughts hello@therevivist.com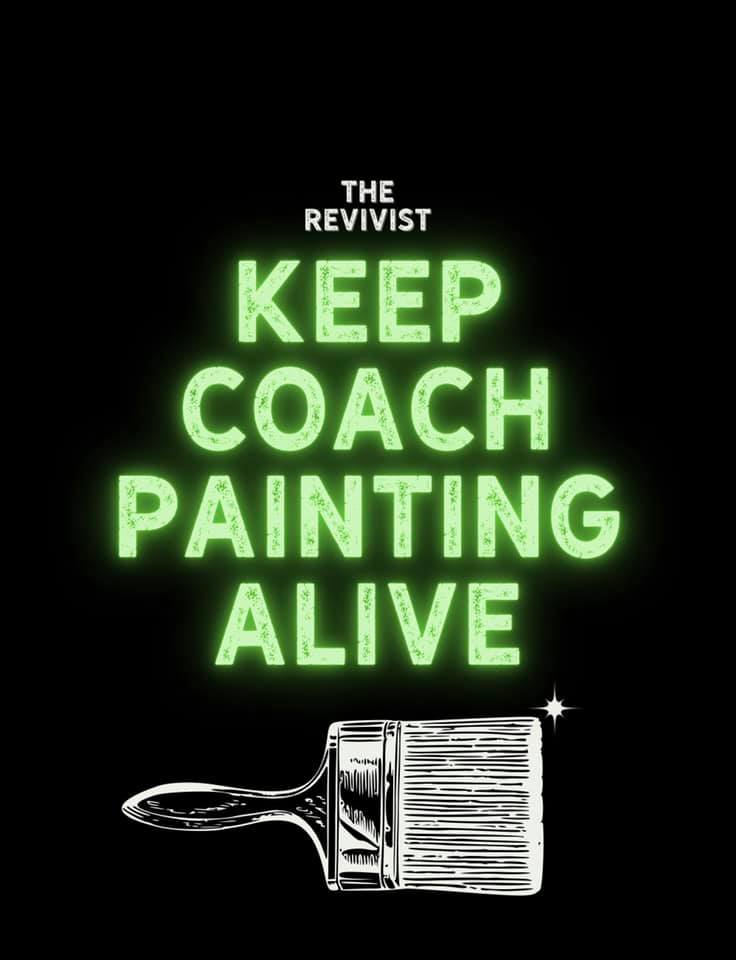 Related Posts