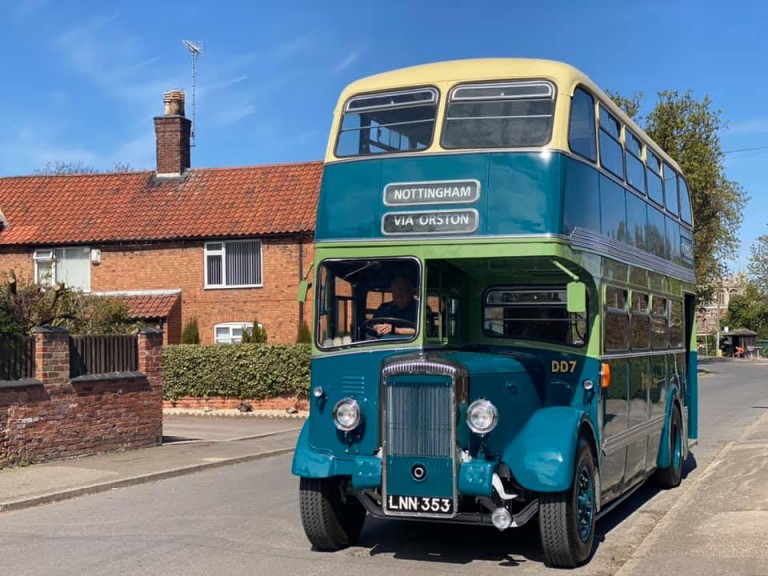 1950 Daimler CVD6, LNN 353 - Traditional Coach Paint
July, 2021
The late John Child had been covering the restoration of Gash & Sons Duple bodied Daimler CVD6, Fleet No, DD7 over a few articles in Bus & Coach Preservation magazine. To honour his memory it is my pleasure to share with you John's final update on DD7's restoration.

Recap by John Child
William Gash based in Elston, Nottinghamshire started his first passenger bus service in 1919 with a move to larger premises in Newark in 1953. The company was a great supporter of Daimler vehicles dating back to 1931 and in the late forties and early fifties built up a fleet of ten double deckers, fleet numbers DD1 - DD10. They are still remembered locally, nine of which were still active into the mid 1970's mainly on school services in the area. Despite the company ceasing to trade in 1989 Gash & Sons is still held in affection by local people. Remarkably many of their Daimler double deckers survive to this day and John and Thelma Marshall of Marshalls Coaches Sutton on Trent, a long standing successful coach operator with a fantastic reputation, are the proud preservationists of DD7, LNN 353.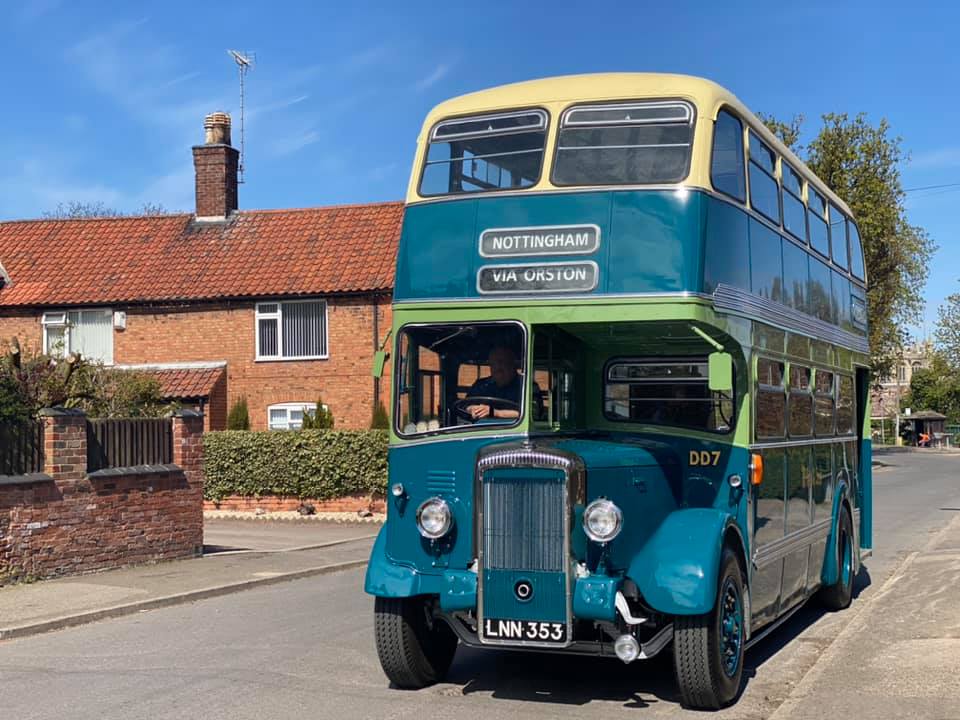 LNN 353, a 1950 low bridge Duple bodied Daimler CVD6, entered service with W Gash & Sons of Elston near Newark in August 1950 as DD (Double-Decker) 7. Originally ordered by Nottingham coach operator Skills, DD7 had registration mark LTO 30 reserved for it but it was subsequently registered LNN 353. It was driven in service, mainly on school duties and private hires from 1969 until its December 1977 withdrawal; the bus having travelled almost 600,000 miles in 27 years.
John Marshall has always had a soft spot for W Gash & Sons as he took his PSV test with them in 1969 with a commitment to drive a school run. Up until 1989 John was employed as a part time driver for Gash and Sons by which time he decided to start his own business with wife Thelma, Marshall Automotive Components. John and Thelma's business sold parts to the motor repair industry and fleet operators with a strong focus on customer service and supplying difficult to obtain and unique spares plus bread and butter items such as brakes, suspension parts, clutches, batteries and electrical components. They also manufactured number plates. John got involved in running buses by taking over the East Drayton to Newark once a week market service following the retirement of Brumpton Coachways of Dunham on Trent. John purchased a 12-year-old Bedford YLQ Plaxton Supreme 45 seater from Gash and the rest is history.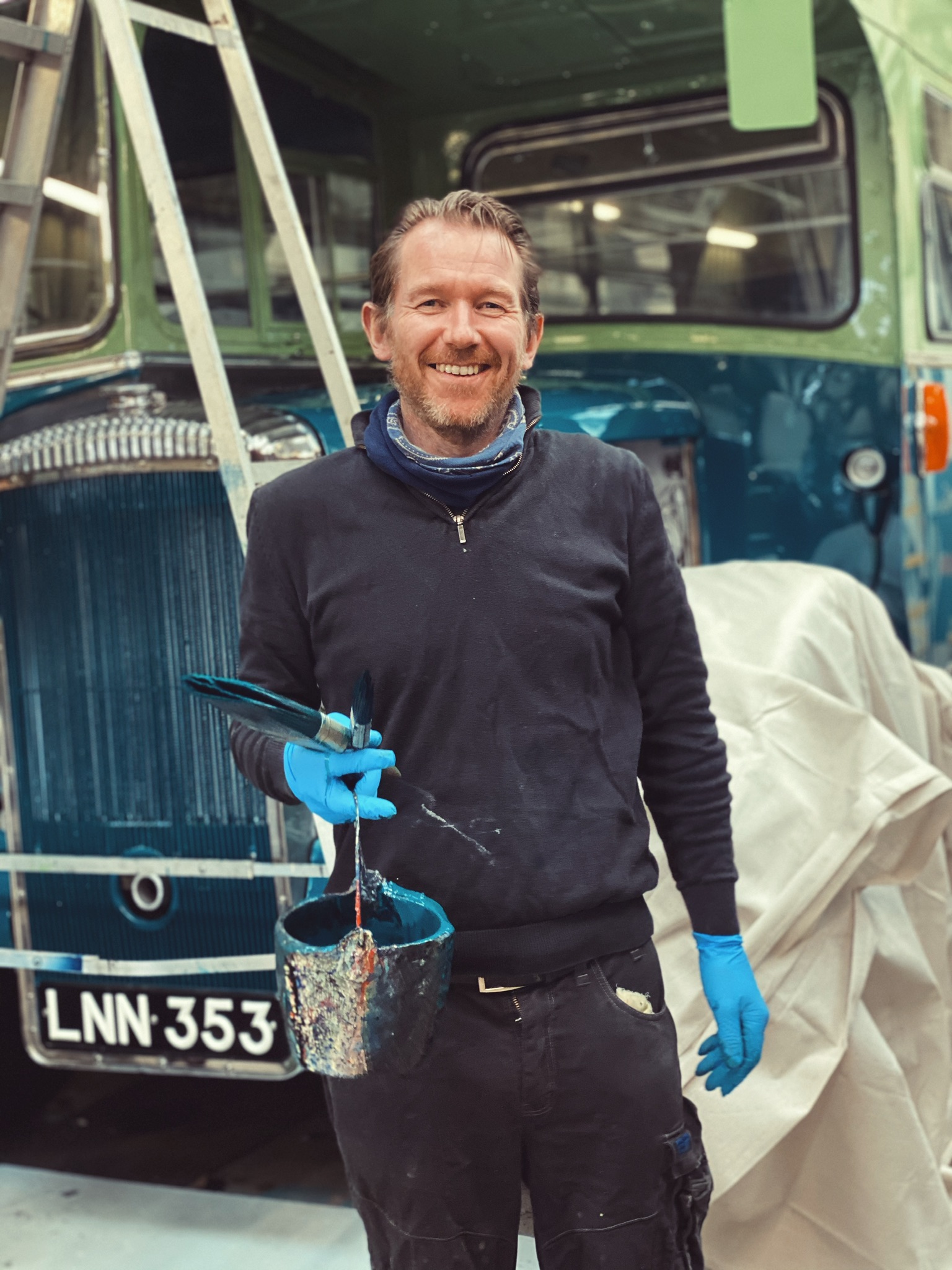 John enjoyed driving the Daimler double deckers and always held Gash in great affection so it is not surprising that he became a 'Daimler man' and he bought three - KNN 959 (DD6) rescued in 1985 while stored at BaMMOT Wythall, LNN 353 (DD7) which he asked the company if he could buy as early as 1972, and RAL 795 (DD10) which he was offered at a price he could not refuse. John had a particular interest in DD7 as he drove it regularly on school services so in 1977 when DD7 was withdrawn he decided to buy and it became part of the Sutton-on-Trent Historical Vehicle Group's collection. The group bought DD7 for £150, this was considered to be a very good buy as the bus had not been used extensively because of its 53 seater capacity and had clocked up only 596,000 miles compared to DD10 that had 1,347,000 on the clock. DD7 is the only remaining in the collection today, along with no fewer than eight Daimler Lanchester cars.
The Daimler was actively rallied throughout the 1970's and 80's until a brake failure in 1987 caused it to be taken off the road. Repairing the Lockhead constant pressure braking system became a problem due to lack of parts so the bus was laid up pending a full restoration. In 2006 work started and was sporadic until 2014 when the restoration picked up pace, John decided it was time to restore the bus to its former glory and get it back on the road with the assistance of his long time friend who had also worked for Gash & Sons, Robert Lowe. Robert joined Marshalls of Sutton on Trent in 1991 as John's first full time employee and as well as driving duties and battling illness he has played a prominent role in restoring DD7 back to the road through his own love of the vehicle and a passion for it's restoration. Interestingly enough being hands on must run in Roberts family as his son Steven is an engineer for the RAF and has recently taken on a full restoration project of his own.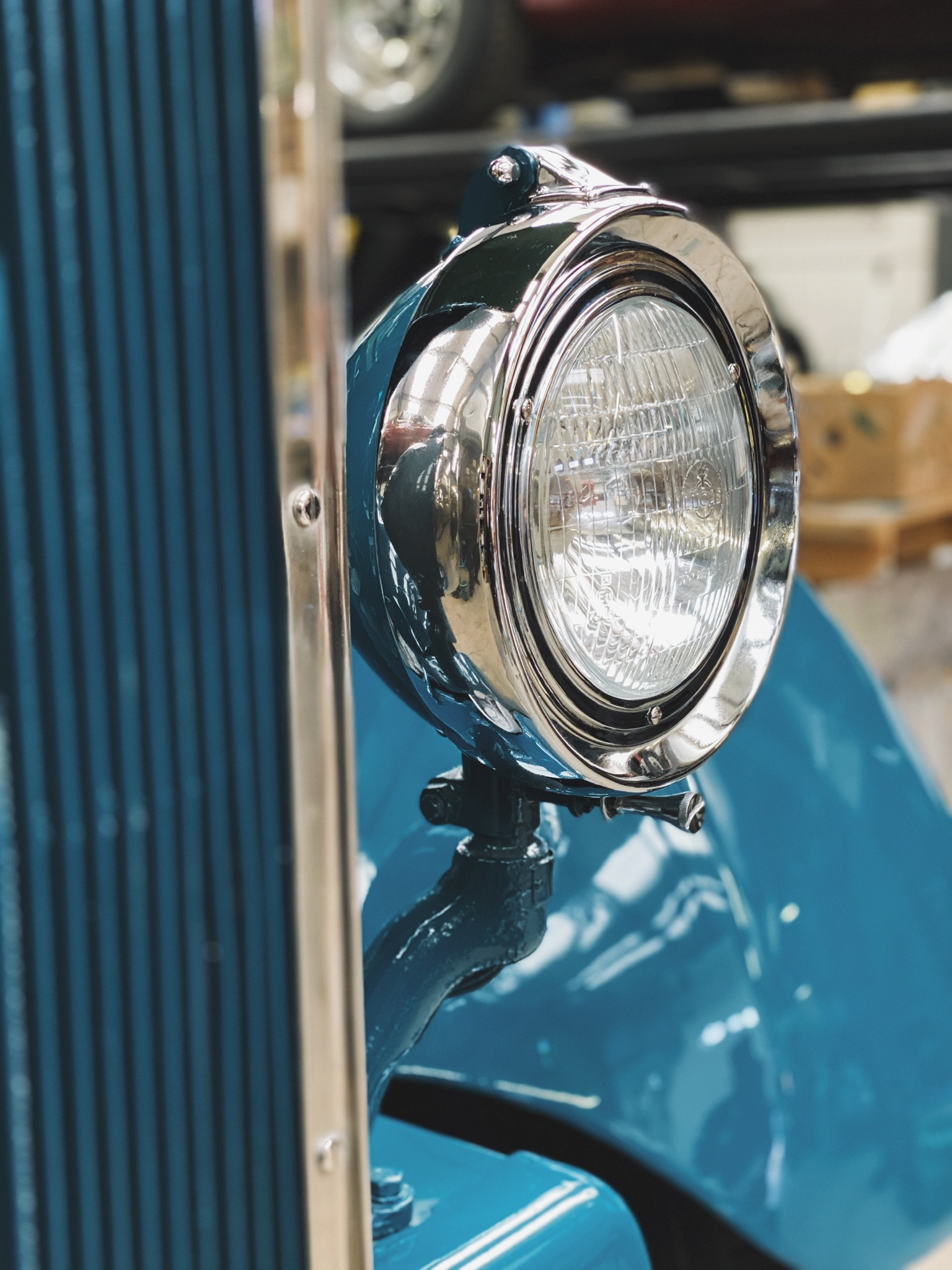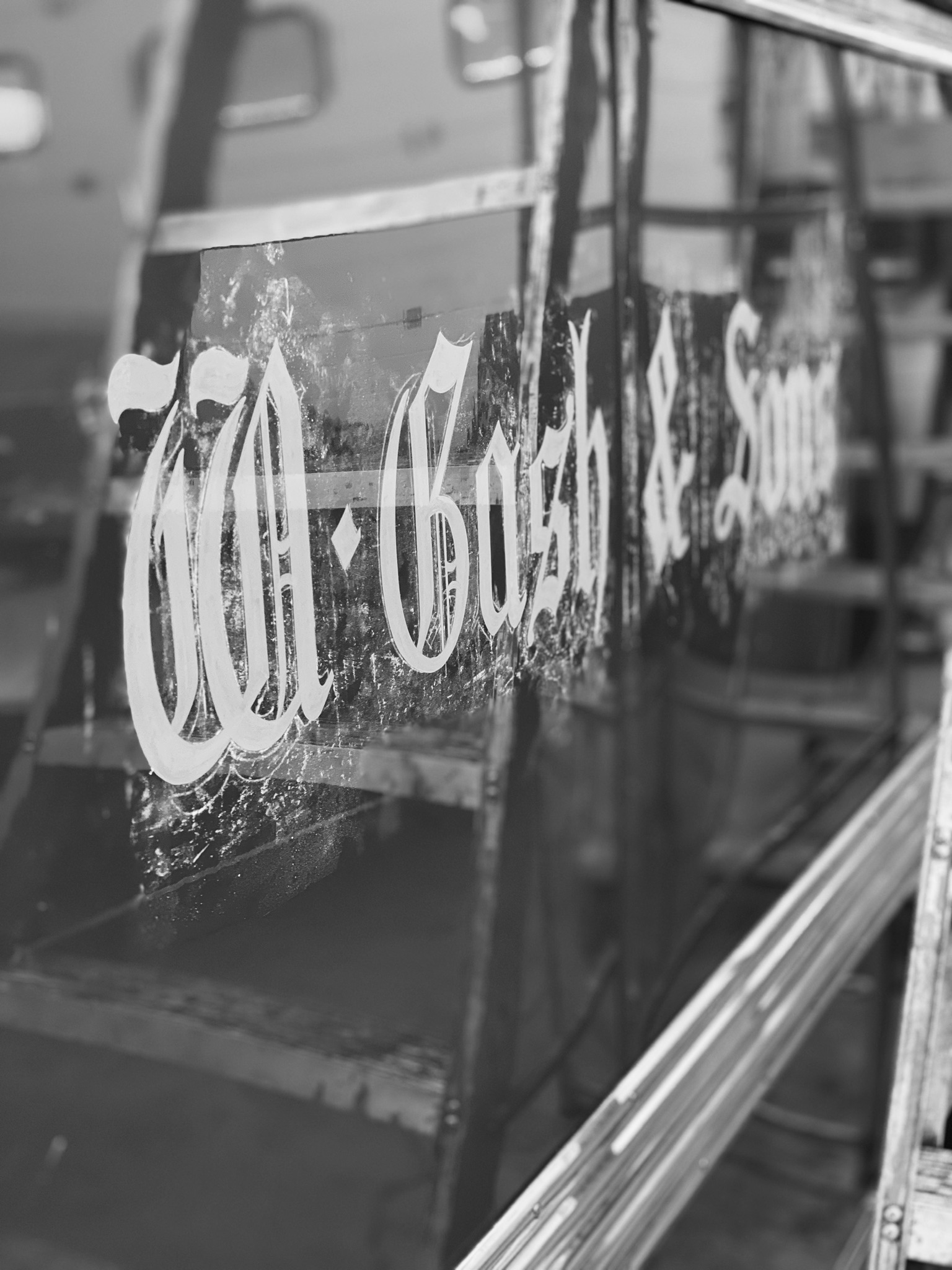 Some interesting restoration notes by John Child
The CVD6 engine has enjoyed a complete rebuild
The radiator surround has been freshly chromed and the original front number plate has been restored after spending 40 years idling on John Marshall's garage wall.
Radiator grill now fitted to DD7 is a spare from Gash fleet no DO4, LAL 557, a single decker CVD6 as the original had some base damage
Notable is the rebuilding of the braking system converted from a Lockheed constant pressure hydraulic system to a Lockheed/Clayton Dewandre vacuum servo hydraulic system on all brakes. KWT 600 donated its original servo and vacuum tank. The work involved was a challenge involving both restoration and fitting. Robert recalls 'It was not designed to fit - it won't fit - it will never fit - It's now fitted!' The low bridge floor of DD7 is 4 inches lower than a high bridge which added the challenge. So persistence overcomes resistance once more!
New exhaust system and electrical work has been completed
The cab area has had plenty of TLC along with the restored Clayton Dewandre heater refitted over the bonnet area.
Upper and lower deck saloons were gutted and treat to ceiling prep and repaint in cream, new floor linoleum fitted and blue vinyl around the interior side panels. Seat frames shot blasted and powder coated.
The original full set of seats have been reupholstered by Eastgate Trimmers and all hand rails re-chromed
Full exterior preparation, paint strip and new panels and beading replaced where needed
The windows and window surrounds have received the full 'Robert treatment' as they were very corroded in places and required welding before refitting. Designed by Roy Marshall the rare polished aluminium strip fitted above the lower saloon windows were removed and renovated before refitting. The aluminium trim was designed by Skills to promote a coach image.
Some new framework has been shaped and fitted using locally grown ash timber.
Work at the rear of the bus required precision building of a new rear emergency door with the original beyond repair.
Rear platform doors fitted to a double decker were unusual in 1950 with DD7 originally destined for Skills express services from Nottingham to Bridlington which it never operated as the bus went straight to Gash from the factory. The bus features a nearside lower deck luggage rack, high back seats and heaters. The bottom half of the platform doors required major attention during restoration. Fully restored polished wood on the concertina platform door.
The ornate trim worn by DD7 and DD8 was designed by the late Roy Marshall who worked at Skills at that time. Both buses were originally destined for Skills but instead sold to Gash & Sons Ltd. All of the exterior coach style trim has been polished by M&G Metal Polishing.
Exterior coach painting has been completed by Ashley Blackman of The Revivist along with the finer finishing details including extra polishing and and final valet before hitting the road.
The gothic style fleet name lettering was used until block lettering came in 1977. Fortunately DD7 escaped this makeover so John has decided to reinstate the gothic style lettering using traditional signwriting. Brian the Brush has completed all of the signwriting on DD7.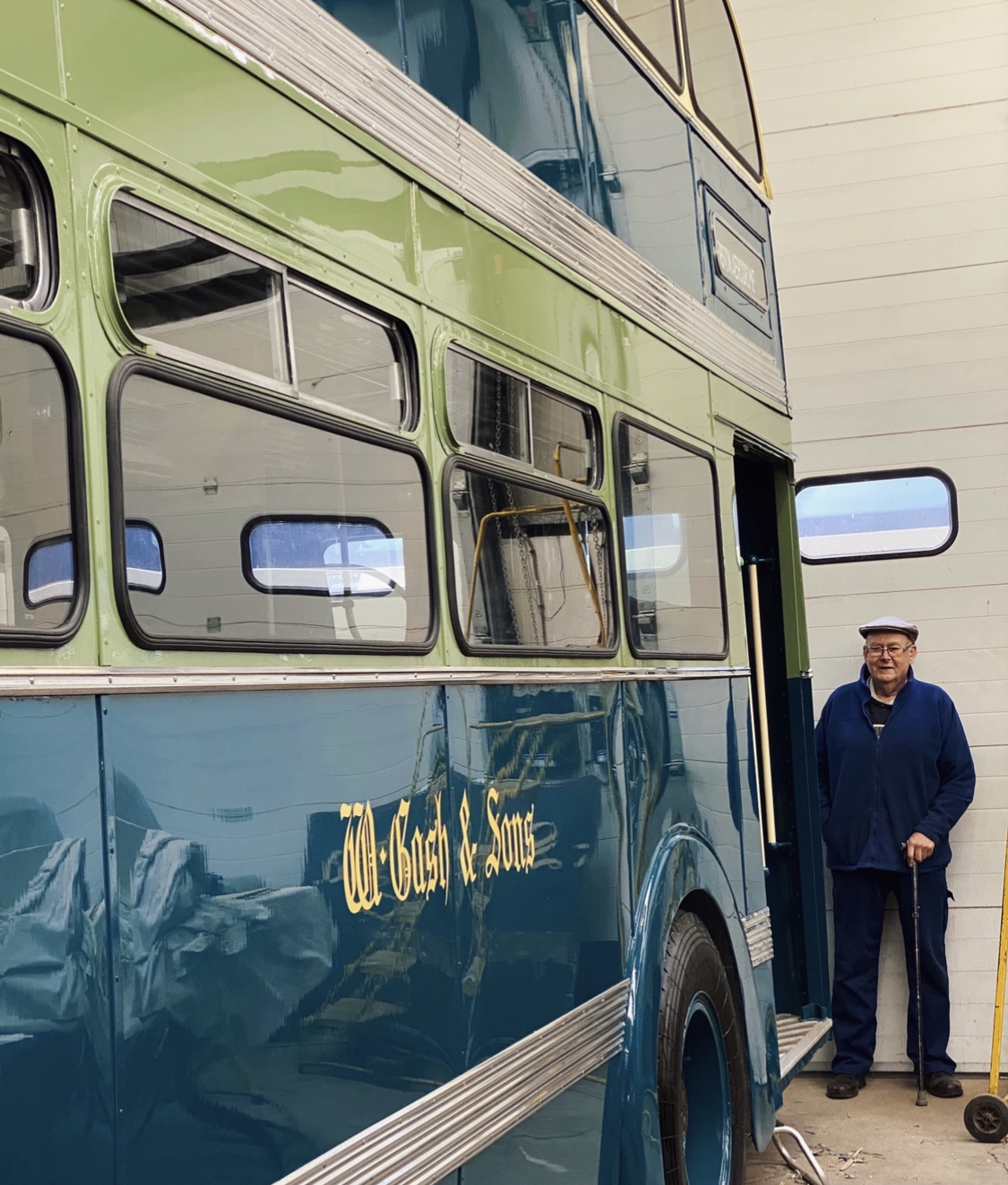 The Big Reveal by Ashley Blackman
It is a sunny day in April and a few of us have safely gathered at Marshalls of Sutton on Trent for the unveiling of DD7 and the official cover photoshoot with Philip Lamb. The day is an emotional one as this will be the first time DD7 has been out on the road with passengers in 35 years and I am pleased to report that the Daimler performed fantastically, sounded characterfully tuneful and looked stunning.
It is a testament to John Marshall, Robert Lowe, Paul Marshall and the entire team at Marshalls coaches, Steve Lyne and all of the specialist businesses that have been a part of the restoration of the Daimler and have jumped in to assist Robert and John when needed. Robert said to me, he started the restoration and he is certainly going to finish it no life challenges will stop him. That kind of passion and determination is infectious and I for one am thankful John and Thelma asked me to be involved with coach painting DD7 as it is not only about the vehicles involved in this hobby but more often than not the great people we all get to meet along that way and can now call friends. Marshalls of Sutton on Trent is somewhere I will enjoy visiting in the future not only to marvel at DD7 but to catch up with friends.
Looking forward to seeing John and Thelma Marshalls Gash Daimler 'rocking and rolling' as John Child put it, out on the road with their family and friends soon. DD7 will also be a very special guest at Robert Lowe's daughters wedding too!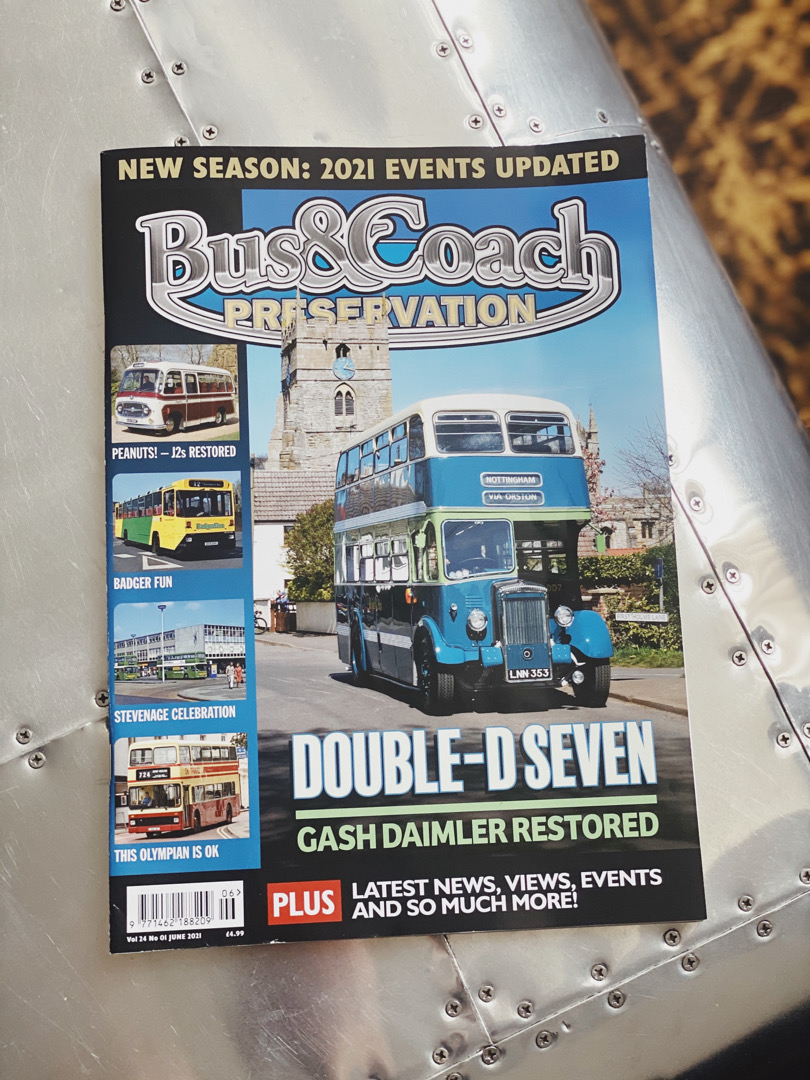 Related Projects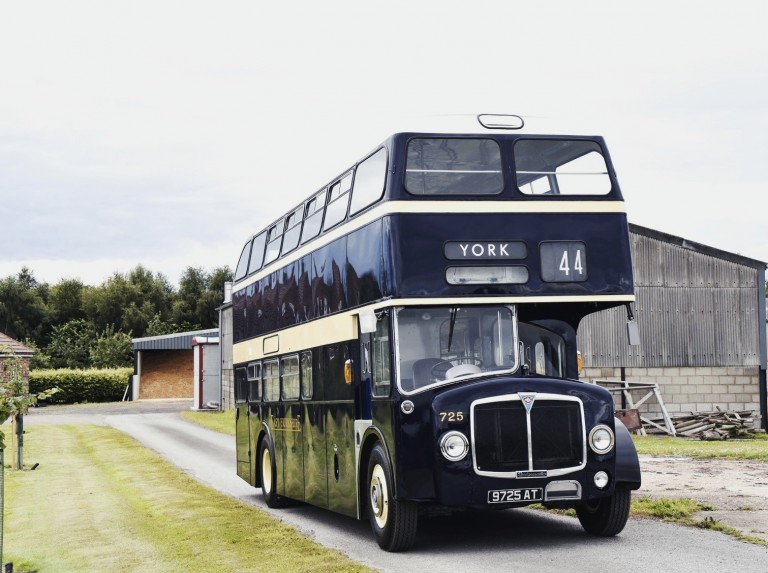 15th August 2016
Ashley Blackman discusses the restoration of "725" a 1962 Park Royal AEC Bridgemaster, East Yorkshire…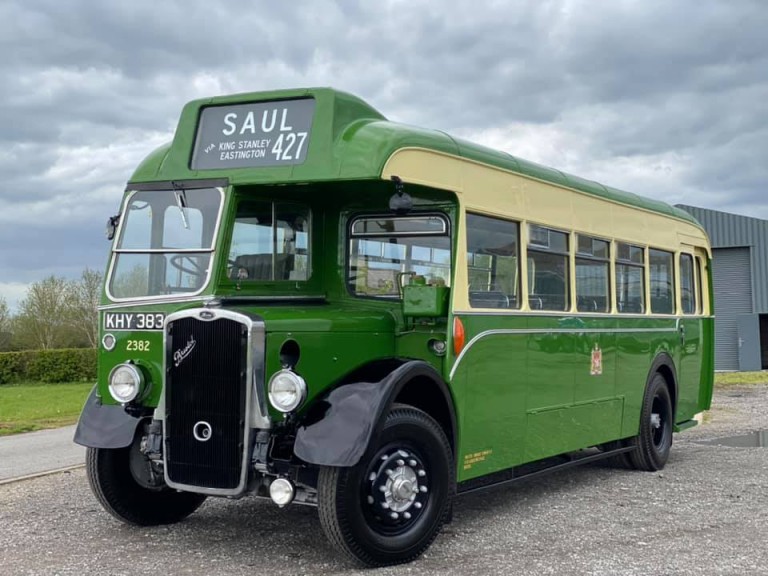 25th May 2021
Celebrations are in order, 2021 is a special year for Mike Ellis and his 1948 Bristol Omnibus L6B, KHY 383,…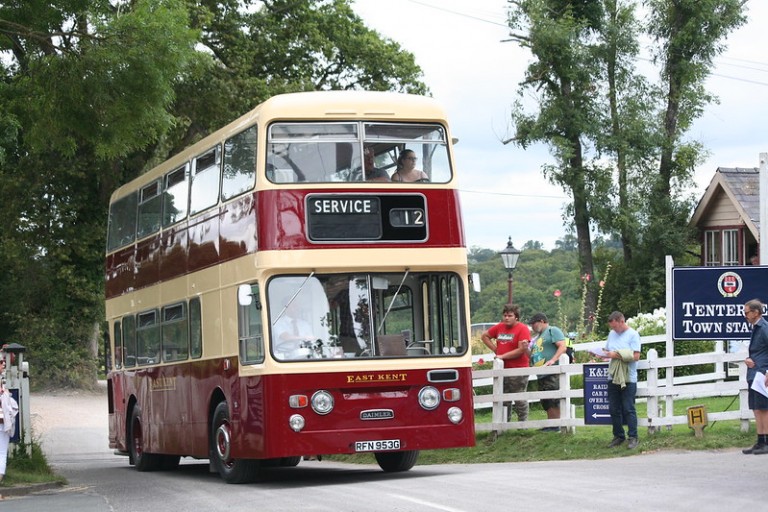 5th July 2019
Ashley Blackman discusses the restoration of the sole surviving 1969 Park Royal bodied East Kent Daimler…